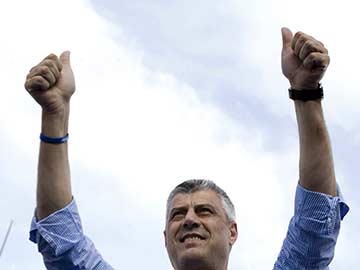 Pristina:
Kosovo heads to the polls on Sunday in a snap election seen as a vital test for Prime Minister Hashim Thaci, and for the country's EU bid.
Thaci, a former guerrilla leader turned politician, has led ethnic Albanian-dominated Kosovo for seven years, overseeing its 2008 declaration of independence from Serbia. He called the early election, originally scheduled for November, after Serb lawmakers blocked a vote on the creation of a national army.
A significant turnout of 120,000 ethnic Serbs, especially in northern Kosovo where they are the majority, is crucial for the implementation of an EU-brokered landmark deal that has improved relations between former bitter foes in Pristina and Belgrade.
Substantial Serbian participation, the first in general polls since the independence, would be a positive step for Kosovo's EU membership bid.
Although Serbia still rejects Kosovo's independence, it is expected to encourage the Serb community to vote in a bid to strengthen the April 2013 deal that allowed it to begin its own EU membership talks.
Serbian Prime Minister Aleksandar Vucic said it would be "unwise" for Kosovo's ethnic Serbians not to take part in the elections.
The early polls were called amid growing discord in the 120-seat parliament, where Thaci's Democratic Party of Kosovo (PDK) holds only 33 MPs following a 2010 vote when it had to join forces with several smaller parties to form a government.
"Thaci feared the opposition could unite for a no-confidence vote before regular polls in October," analyst Halil Matoshi told AFP.
For Thaci, 46, the polls will be a major test of his hold on power, as economic woes have overshadowed a heated political campaign.
-
'New Mission' to revive economy
-
The country's unemployment rate is stuck at 35 percent, rising to 55 percent among the youth, according to data from the Kosovo Statistics Bureau.
Even more worrisome for the prime minister is the country's high poverty rate. Nearly half of Kosovo's 1.8 million-strong population is considered "poor", while 12 percent live in "extreme poverty"
With an average monthly salary of 350 euros ($476), landlocked Kosovo is among the poorest states in Europe.
With this in mind, Thaci has put the economy at the centre of his campaign, promoting a 1.5 billion euro ($ 2.04 billion) plan dubbed "New Mission", modelled after US president Franklin Roosevelt's New Deal.
"We have successfully closed two important chapters for our country: independence and freedom" from Serbia, Thaci said during the campaign.
"Now we must lead the third battle: economic development, creation of new jobs and enhancing social well-being," he said.
Thaci promised that his future government would create 200,000 new jobs, but economists have cast doubt on the plan.
"Kosovo would need to have at least 20 percent annual growth, seven times more than it registered during (Thaci's) previous mandates," said economic analyst Lumir Abdixhiku.
-'Heaven for crime and corruption' -
A further concern for the prime minister is the rampant corruption in Kosovo that has hampered economic growth in previous years.
Slovenia-based Balkans-research institute IFIMES said in a report prior to the vote that "organised crime and corruption pose a great threat to Kosovo's society".
"To the analysts, Kosovo is a heaven for crime and corruption," IFIMES said.
The global corruption watchdog Transparency International, meanwhile, put Kosovo at 111th place in its 2013 corruption index.
Thaci "is trying to distance himself from his governance in the past when corruption in the country reached record highs", said analyst Lavdim Hamidi.
But despite the high stakes, response to the poll among Kosovans is mixed.
Beqir Halimi, a 29-year-old street vendor, said he would not vote as he "cannot change anything".
"I will be in the street selling umbrellas on Sunday, let's hope it will be a rainy day," he said.
But 19-year-old student Bukurija Selimi said he would vote as "Kosovo cannot go forward if we don't vote for better".
With no reliable surveys, observers believe the race will be between Thaci's PDK and late president Ibrahim Rugova's Democratic League of Kosovo (LDK).
Thaci's strongest rival for the prime minister's post is LDK leader Isa Mustafa.
"Only the LDK is strong enough to overthrow the PDK and finally establish a democratic government to work in the interest of all citizens," Mustafa said.
Once Thaci's brother-in-arms, former prime minister Ramush Haradinaj and his Alliance for the future of Kosovo are expected to win the votes of many ex-guerrilla fighters.
The populist Self-Determination movement of Albin Kurti, which defeated Thaci's candidate for Pristina mayor in local elections last year, has softened its nationalist rhetoric in a bid to appeal to those hardest hit by the ailing economy.
Some 1.78 million voters are registered for the polls that will open at 0500 GMT and close 12 hours later.
Preliminary results are expected next week.
Get Breaking news, live coverage, and Latest News from India and around the world on NDTV.com. Catch all the Live TV action on NDTV 24x7 and NDTV India. Like us on Facebook or follow us on Twitter and Instagram for latest news and live news updates.