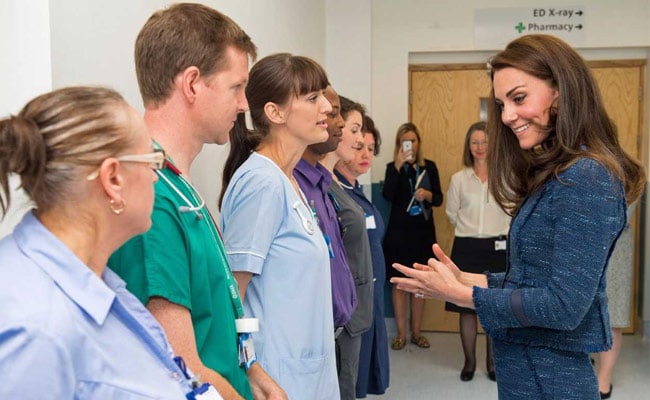 London:
Kate Middleton, the Duchess of Cambridge, made a surprise visit to London terror attack victims at a hospital in the city today.
The wife of Prince William arrived at King's Hospital, south-east London, hospital for a visit that was not publicised in advance to enable staff to continue to treat those affected without disruption.
In total 14 victims were taken to the hospital, one of whom was "walking wounded" and able to leave quickly after being seen by emergency staff.
The remaining 13 required treatment for stab wounds of varying severity. Seven were in a critical condition and are still receiving round-the-clock treatment.
The Duchess of Cambridge met staff who were on shift in the emergency department at the time of the terror attack, as well as those working on the trauma ward.
She spoke to six patients who are still being treated at the hospital and also to doctors and nurses who were working on the night of the atrocity.
Eight people were killed in the London Bridge terror attack when three men - Pakistan-born Khuram Shazad Butt, Moroccan-origin Rachid Redouane and Moroccon-Italian Yousef Zaghba - drove a white van into pedestrians, before jumping out and stabbing bystanders.
Almost 50 people were injured in the attack, which took place in London Bridge and Borough Market area of London on June 3.
Armed police marksmen descended on the scene and shot the three suspects dead.
Nurse Kirsty Boden, 28, and au pair Sara Zelenak, 21 - were among the eight killed in the attack. The other victims were identified as Canadian national Christine Archibald, 30, French nationals Sebastien Belanger, 36, Alexandre Pigeard, 26, and Xavier Thomas, 45, Spanish national Ignacio Echeverria, 39, and Londoner James McMullan, 32.
The ISIS had claimed responsibility for the attack.
Scotland Yard are currently questioning seven suspects in connection with the investigation into the attack.