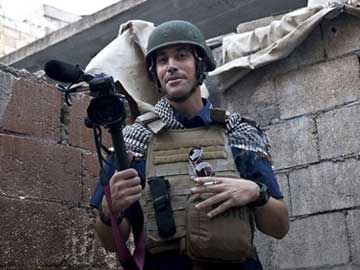 Washington:
The parents of murdered journalist James Foley paid graceful tribute Wednesday to their "hero" son and urged his killers to release any other hostages they currently hold.
"We're very proud of him. He was a courageous, fearless journalist, very compassionate American. I mean, the best of America," Diane Foley said of her son, whose execution at the hands of jihadist group the Islamic State triggered global revulsion.
"Jim could feel the prayers. He was strong, courageous, loving to the end," she added, in an appearance with Foley's father outside the family's home in Rochester, New Hampshire.
"He was just a hero."
President Barack Obama said Wednesday he had called Foley's parents telling them he was heartbroken at their son's murder.
Foley, 40, covered the lives of civilians in war-torn Syria when he was abducted in November, 2012.
A video of the execution was posted on the Internet and US intelligence officials have confirmed its authenticity.
The video also showed the militant threatening a young man introduced as fellow American hostage and reporter Steven Sotloff. Foley's father called on the captors to show mercy.
"They never hurt anybody. They were trying to help, and there's no reason for their slaughter," John Foley said.
The Islamic State, seeking to form a Muslim caliphate in the region, has marauded through Iraq in recent months, employing ruthless tactics and suicide bombings to surpass Al-Qaeda as the world's most feared extremist group.
The militant in the video said the killing was retaliation for US air strikes against IS forces in Iraq, and the group has threatened more killings unless the air strikes stop.
According to Foley's mother: "Jim was just innocent, and they knew it. They knew that Jim was just a symbol for our country."
Foley's mother said the family has not watched the gruesome video, but father John Foley said he was appalled by how his son died.
"It haunts me, how much pain he was in and how cruel this method of execution is as opposed to so many others," he said. "We believe he was a martyr, a martyr for freedom."