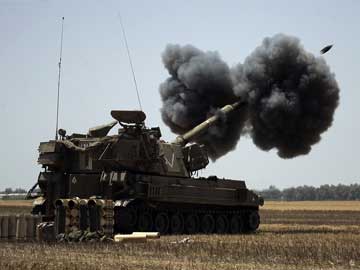 Tel Aviv:
Israel will keep up its military campaign in the Gaza Strip for as long as needed and with as much force as necessary, Prime Minister Benjamin Netanyahu said on Saturday.
And he said that all options were "on the table" to achieve that mission.
"From the beginning, we promised to return the quiet to Israel's citizens and we will continue to act until that aim is achieved. We will take as much time as necessary, and will exert as much force as needed," he said in a public address.
"All options are on the table to return peace to the citizens of Israel."
He also pledged to do whatever necessary to bring home 23-year-old soldier Hadar Goldin, who Israel believes was captured by Palestinian militants during an ambush in southern Gaza early on Friday.
"Israel will continue to make every effort to bring its missing sons home," he pledged in remarks made just after the missing soldier's mother made an emotional appeal demanding there be no troop withdrawal until her son is found.
He said troops would complete the mission of destroying a complex network of tunnels used by militants to infiltrate southern Israel before deciding on its next security objectives.
"After the completion of our activity against the tunnels, the IDF (army) will prepare to continue our activities according to security needs, and only according to our security needs, until we achieve the objective of returning security to the citizens of Israel," he said.