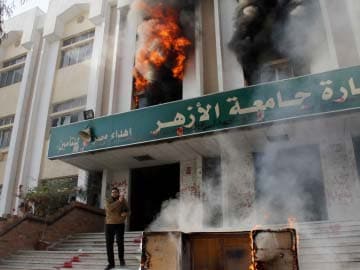 Cairo:
Student supporters of the Muslim Brotherhood on Saturday stormed a faculty building at Cairo's Al-Azhar University where exams were being taken and set it on fire, security officials said.
The students entered the commerce faculty building during an exam and set it alight before police and security forces members burst in and fired tear gas to disperse the protesters, the officials said.
A police official said 60 of the students were arrested after the fire on the first two floors of the building was brought under control.
The students were trying to stop the exams, which started on Saturday, as part of their protest against the military's overthrow of Islamist president Mohamed Morsi in July.
They have regularly clashed with police on the university campus.
The violence comes a day after three people were killed in clashes and 265 arrested across Egypt in a crackdown on Brotherhood demonstrations.
The military-installed government has banned protests by Brotherhood members demanding the reinstatement of Morsi, after listing the Islamist movement as a terrorist organisation this week.
The interior ministry on Friday said "legal measures are underway in accordance with the cabinet's listing of the Muslim Brotherhood as a terrorist organisation".
The Brotherhood's designation as a terrorist group carries harsh penalties, with the group's leaders facing possible death sentences and protesters looking at up to five years in prison.
The movement has held near-daily protests since the military ousted Morsi on July 3, despite a crackdown that has killed more than 1,000 people, mainly Islamists, and seen thousands more arrested.