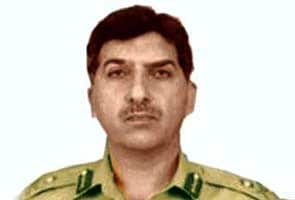 Islamabad:
Pakistan's powerful ISI chief Lt Gen Ahmed Shuja Pasha on Friday offered to resign after admitting failure over the US raid that led to the killing of Osama bin Laden in Abbottabad.
Pasha's dramatic announcement came during an in-camera joint session of both houses of Parliament that was briefed by military officials about the US operation on May 2.
Pasha apologised to the nation and offered to resign if Parliament so desired, Geo News reported.
"The failure was not intentional but I admit it was a mistake," ISI chief was quoted at saying.
BBC reported that Pasha's offer was rejected by Prime Minister Yousuf Raza Gilani.
Earlier, Information Minister Firdous Ashiq Awan said Pasha had "surrendered" himself to Parliament so that he could be held accountable for any lapses.
TV news channels quoted their sources as saying that Pasha had offered to quit after being cornered by lawmakers from the main opposition PML-N and the ruling Pakistan People's Party.
An emotional Pasha said he was ready to resign if parliament asks him to do so, the channels reported.
Leader of Opposition Chaudhry Nisar Ali Khan, a senior leader of the PML-N, reportedly had a heated exchange during the session that began at 3 pm and continued for over six hours.
Tehmina Daultana, another senior leader of the PML-N, reportedly accused Pasha of meddling in politics.
The news channels further reported that some parliamentarians shouted "Shame! Shame!" as the ISI chief, a close aide of army chief Gen Ashfaq Parvez Kayani, was questioned by lawmakers.
Pasha reportedly said that mistakes had been made but he had not erred knowingly.
There was no official word on the development.
Speaking to the media while the session was underway, Awan said, "Clearly, the Director General (of the) ISI surrendered himself to parliament and said he was ready to appear before the Pakistani Prime Minister or parliament or any commission as he considers himself accountable".
Awan quoted Pasha as saying that he was ready to face the consequences of any "negligence or intentional failure" linked to the US raid.
Army chief Gen Ashfaq Parvez Kayani attended the joint session of parliament that was briefed by the ISI chief, Deputy Air Vice Marshal Asim Suleman and the Director General of Military Operations.
The briefing was followed by a question-and-answer session.
The military and the government are facing embarrassing questions after the US raid against bin Laden brought to light the fact that he had been living for years in a garrison city that is home to thousands of soldiers and several key military institutions.