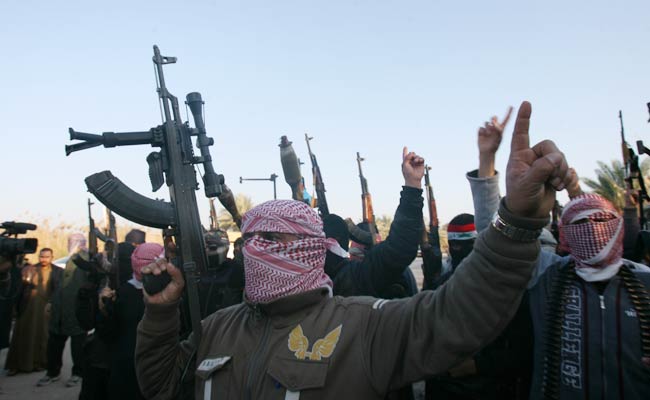 Samarra, Iraq:
Iraq's huge offensive to retake Tikrit from the Islamic State group was stalled on Tuesday by a slew of bombs and the several hundred jihadists holding out in the city.
While Iraqi troops and militia were able to surround the jihadists in Tikrit with relative ease, ousting them from the city's streets has proved far harder.
"The battle to retake Tikrit will be difficult because of the preparations (IS) made," said Jawwad al-Etlebawi, spokesman for the Asaib Ahl al-Haq, a Shiite militia that is playing a major role in the operation alongside the regular army.
"They planted bombs on all the streets, buildings, bridges, everything. For this reason, our forces were stopped by these defensive preparations," Etlebawi told AFP.
"We need forces trained in urban warfare to break in," he said, adding that the jihadists are surrounded, "but any besieged person fights fiercely."
The operation to recapture Tikrit, the capital of Salaheddin province, began on March 2.
Iraqi forces have tried and failed three times before to retake the city, which was the hometown of executed dictator Saddam Hussein.
Interior Minister Mohammed Ghabban said on Monday that the latest operation had been halted to avoid casualties and protect infrastructure.
But it is unclear how stopping operations against the jihadists for anything other than an extended siege would change either of those situations, unless Iraqi forces receive additional external support such as air strikes.
Staff Lieutenant General Abdulwahab al-Saadi, the head of the military command responsible for Salaheddin, told AFP on Sunday that Iraqi forces in Tikrit needed air support from the US-led coalition.
Saadi said that he asked the defence ministry to make the request to the coalition, but that no air support had yet been forthcoming.
- IS beheadings -
Iraq has formed paramilitary units dubbed the Popular Mobilisation force to fight alongside the regular army.
It is made up largely of Shiite militiamen but the government has attempted to recruit Sunni Arab volunteers to it to join the battle in overwhelmingly Sunni Arab Tikrit.
IS posted pictures on Tuesday of the beheadings of four men it said what were recruiters for the units in Salaheddin province.
The images show the men dressed in black kneeling in an empty street with knife-wielding militants standing behind them, after which they are pictured being beheaded.
IS has carried out numerous atrocities in areas it controls, including public beheadings and mass executions as well as enslavement and rape, and caused millions to be displaced.
IS spearheaded a sweeping offensive that overran large areas north and west of Baghdad last June.
It also holds significant territory in neighbouring Syria, where it has taken advantage of the uprising against President Bashar al-Assad, now in its fifth year, to oust government forces and rival rebel groups from a swathe of the east and north.


Assad has sought to exploit international outrage at the atrocities committed by IS to consolidate his grip on power.
But US officials vowed that the Syrian leader would never personally be a part of negotiations to end the conflict, after Secretary of State John Kerry appeared to suggest Washington would have to talk to him if peace is to be forged.
"As we have long said, there always has been a need for representatives of the Assad regime to be a part of that process," said State Department spokeswoman Jen Psaki.
"It would not be, and would never be -- and it wasn't what Secretary Kerry was intending to imply -- that that would be Assad himself."


Assad's forces have been accused of using barrel bombs -- crudely constructed weapons packed with explosives and typically dropped by helicopter -- in attacks on rebel areas.
The Syrian Observatory for Human Rights said that chlorine gas appeared to have been used in one such attack on a rebel-held district of northwestern Syria late on Monday.
"Three children, their mother and father, and their grandmother suffocated to death after regime barrel bomb attacks" on their village in Idlib province, the Britain-based monitoring group said.
It said doctors in the village of Sarmin, southeast of the provincial capital of Idlib, concluded that the manner of death indicated a gas, possibly chlorine, had been emitted from the barrel bombs.
The Syrian regime has been accused of using chlorine -- a toxic agent that can be considered a chemical weapon -- on civilian areas in the past.
IS too stands accused of using chlorine, notably in a January 23 car bomb attacks on Kurdish forces in Iraq.