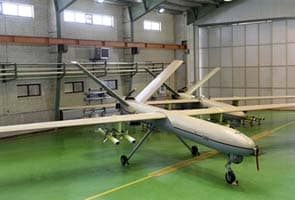 Tehran:
The Iranian Army's Ground Forces on Saturday unveiled new home-made combat drone, capable of flying at an altitude of 4.57 kilometres, and has a flight endurance of eight hours and an effective operational radius of 200 kilometres, Xinhua reported.
"One of the capabilities of Yasir (the newly unveiled drone) is detecting and targeting remote spots," said Commander of Iranian Army's Ground Force Brigadier General Ahmad-Reza Pourdastan, adding the drone is equipped with the most advanced reconnaissance systems.
Also, Commander of the Iranian Ground Force's Vali-e Asr Drone Group Colonel Reza Khaki said his forces made 150 operational flights across the country and participated in 15 war games in one year, according to Fars.
The Ground Force's drones were used to strengthen security at Iran's eastern and southeastern border, he added.
On Friday, Iran announced the start of mass-production of the UAV Shahed 129, a combat drone capable of carrying eight bombs or domestically-manufactured Sadid missiles simultaneously, designed to hit both stationary and mobile targets, said Press TV.
Shahed 129 has an effective operational radius of 1,700 km in terms of accurate targeting, flight endurance of 24 hours on a single fuel run and a flight ceiling of 7.32 km. It has a monitoring capability of 200 km radius.