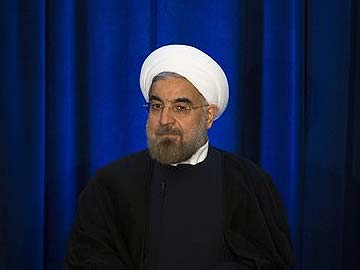 Tehran:
Iran will not accept "nuclear apartheid" but is willing to offer more transparency over its atomic activities, President Hassan Rouhani said on Sunday ahead of new talks with world powers.
Iran and the P51 group of nations will start hammering out a draft accord on Tuesday aimed at ending a decade-long stand-off over suspicions that the Islamic republic is concealing military objectives.
"We have nothing to put on the table and offer to them but transparency. That's it. Our nuclear technology is not up for negotiation," Rouhani, referring to the West, said in remarks broadcast on state television.
"Iran will not retreat one step in the field of nuclear technology... we will not accept nuclear apartheid," he said.
The self-declared moderate president has faced a battle from domestic critics of his diplomatic outreach since taking power last August.
Hardliners accuse Rouhani of making concessions for little gain under talks that have started to reverse the political isolation Iran grappled with under his hardline predecessor Mahmoud Ahmadinejad.
Other sceptics of the nuclear talks, including members of the US Congress, doubt Rouhani's sincerity in seeking a lasting agreement.
The world's leading powers have long suspected that Iran is developing the capability to build an atomic bomb, an allegation Tehran has repeatedly denied.
"We want to tell the world they cannot belittle the Iranian nation; they have to respect it," Rouhani said on Sunday.
Iran has suffered years of economic hardship exacerbated by international sanctions designed to coerce Tehran into curbing its nuclear work.
A potential deal under discussion between Iranian negotiators and counterparts from the United States, Britain, France, China and Russia plus Germany - under the P51 grouping - this week will focus on the scope of Iran's nuclear activities.
Such an agreement will aim to render Iran incapable of making any push toward atomic weapons while also removing the sanctions.
The negotiators have a July 20 deadline, set by an interim deal reached in November that put temporary limits on Iran's nuclear activities in exchange for modest sanctions relief.
Iran's supreme leader Ayatollah Ali Khamenei, meanwhile, said Sunday problems such as the sanctions should not be linked to the nuclear talks, the IRNA news agency reported.
"Officials should address the question of sanctions by other means," he added, speaking at an exhibition about Iran's military capabilities organised by the powerful Revolutionary Guards.
He added that Iran will not limit its ballistic missile programme as the United States, Israel and some European countries have demanded.
"The US and European countries call for Iran to limit its ballistic programme while continually making military threats. Such an expectation is therefore stupid," he said.
Tehran has developed an extensive ballistic missile programme, with some weapons capable of hitting targets 2,000 kilometres (1,200 miles) away, putting Israel and US regional bases within range.
Get Breaking news, live coverage, and Latest News from India and around the world on NDTV.com. Catch all the Live TV action on NDTV 24x7 and NDTV India. Like us on Facebook or follow us on Twitter and Instagram for latest news and live news updates.