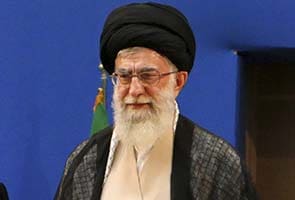 Nicosia:
A new Facebook page dedicated to Iran's supreme leader Ayatollah Ali Khamenei was quickly attracting supporters and comments on Wednesday, despite questions about its authenticity.
"The most common guess is that the Facebook page has been created by Ayatollah Khamenei's office," Mehr news agency reported.
"But a simple search on Facebook shows there are several pages" dedicated to the 73-year-old cleric, it added.
The page -- www.facebook.com/www.Khamenei.ir -- was created on December 13 to encourage the faithful to follow "for regular updates and news."
It has attracted a great deal of attention at home and abroad, with more than 16,600 followers by Wednesday evening.
Posts include photos, a video and an audio clip of Khamenei, who has had the final say on all state matters in the Islamic republic since 1989.
Access to most social websites, including Facebook, is systematically blocked in Iran as part of strict Internet censorship.
Sites such as Twitter, video-sharing hub YouTube and a large number of foreign media pages are also blocked by an official filtering mechanism.
Iran blocks these sites -- which were used in organising street protests after the disputed re-election of President Mahmoud Ahmadinejad in 2009 -- saying they are part of a Western-backed plot to undermine its Islamic regime.
But many web users in Iran -- half of whose 75-million strong population is connected -- have found ways around the blocks through sophisticated software known as VPNs, whose sale in Iran is illegal.
There is no official word on whether the Khamenei.ir page is owned by him, but the first announcement came on a Twitter account of the same name, which is widely believed to be run by his office.
The page seems to share the similar language as the Twitter account.
Comments are moderated, and the visitors are from a wide range of online enthusiasts: the devout faithful and his most vocal critics.
"I sacrifice my life for the leader," said one user.
"If only Facebook had a 'Hate' button rather than 'Like'," said another.
There were also jibes from some users, asking Khamenei what type of VPN he was using.
News of the page came amid first steps to establish a walled-off "National Intranet" separate from the worldwide Internet.
The United States accuses Iran of maintaining an "electronic curtain" to cut its citizens off from the world.