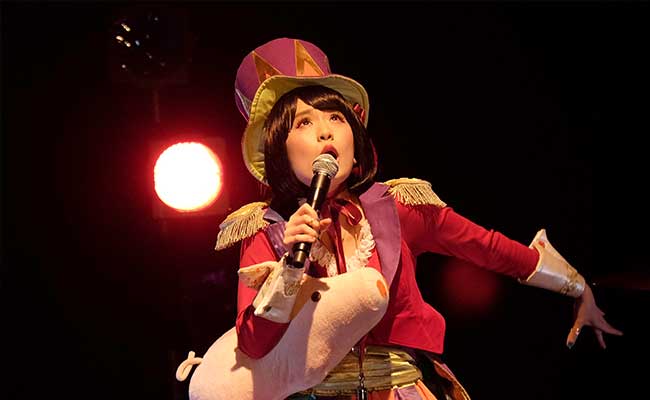 New York:
Their head-to-toe cute factor brings to mind fellow crowd-pleasing Japanese musicians, but for the two sisters who form Charan-Po-Rantan, the inspiration comes not from pop idols but the circus.
With songs driven by an accordion, Charan-Po-Rantan has created a sound that marries J-pop with klezmer, the festive music of Ashkenazi Jews, and the theatrical atmospherics of vaudeville.
Making their New York debut, the sisters in Charan-Po-Rantan -- which loosely translates as sloppy -- appeared in poofy dresses of wildly arranged fabric strips and matching purple and red top hats that could have come out of Dr. Seuss.
Charan-Po-Rantan represents in some ways an alternative to the alternative scene in Japan -- the duo moves musically beyond the sugar-sweet keyboards of mainstream J-Pop but is even further removed from anything consciously hip, with the sisters unperturbed by stylistic comparisons to Disney.
"The number of people in underground circles has been growing in recent years (on the Japanese music scene), so it's easier now for people to get into music they didn't know," said Koharu Matsunaga, 26, the duo's accordionist and main songwriter.
"We don't see ourselves as out of the mainstream. We've been told before that the music is 'fantasy' or Disney; that may be how people see us, but we're not trying to chart that line," she told AFP.
Koharu -- who carried an accordion-shaped handbag to the interview as her sister, 22-year-old singer Momo, brought along her ever-present toy stuffed pig with sewn buttons for eyes -- said that Charan-Po-Rantan let its ideas flow freely, with no behind-the-scenes producer dictating their sound or look.
Koharu said that the sisters' mother designed their costumes and that the accordion first enticed her during a childhood trip to the circus.
She asked "Santa Claus" for an accordion and eventually was scouring YouTube to discover different styles including klezmer and Roma music.
"In the circus, there are lots of different people and nationalities all gathered together, so we wanted to make a band that encompasses a bunch of different genres and styles," she said.
No Banal Pop Lyrics
The duo's New York debut, held Thursday night at the Japan Society, also displayed a playful touch of irony.
Momo explained to the crowd that the sisters wanted to play a Japanese game and then performed a vocal-and-accordion rendition of the theme from Super Mario, the classic video game of the Italian plumber created by Nintendo.
The songs' themes often stay close to the circus -- a recent single is entitled "Anata no Kuni no Merry-Go-Round" ("Your Country's Merry-Go-Round").
Koharu, initially uninterested in lyricism, gradually started to write grimly about her personal life, including, as she says with a laugh, a repeated situation in the past of men hitting her up for money.
"I really disliked typical J-Pop because it was too straightforward and simple -- 'I like you,' 'I feel lonely,' 'I'm happy,'" she said.
Charan-Po-Rantan's audience has been similarly eclectic. The duo played Japan's Fuji Rock Festival in July, performing an early set on the same day as Foo Fighters and Motorhead, and in 2013 came to the United States to play South By Southwest.
Charan-Po-Rantan found a fan in Twitter's co-founder Jack Dorsey, who invited the social media-savvy duo to play for the launch of mobile payment service Square in Japan.
But while the duo appreciates the growing foreign audience, the sisters play down their ambitions.
"We're not trying to 'represent' klezmer or bring this to the forefront," Koharu said. "We're just doing what we like."