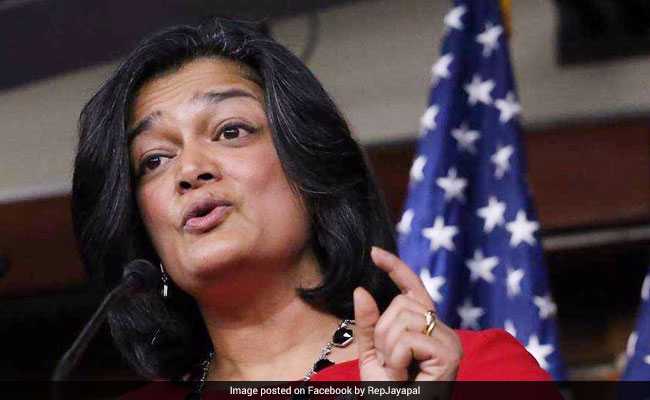 Washington:
Indian-American Congresswoman Pramila Jayapal and some other lawmakers have unveiled a congressional resolution to censure US President Donald Trump for his comments about the violent white nationalist rally in Virginia.
"Not even a week has passed since the tragedy in Charlottesville. But on Tuesday, the president poured salt on the nation's wounds by defending those who marched with white supremacists," Ms Jayapal said.
"In an unscripted press conference, we saw the real and unfiltered Donald Trump - the logical endpoint for a man who has consistently trafficked in racism throughout his career," she said.
The resolution which is also sponsored by Congressman Jerrold Nadler and Bonnie Watson Coleman will be introduced in the US House of Representatives on August 18.
"The American people expect their leaders to condemn white supremacy in unambiguous terms", Ms Jaypal said.
"President Trump not only failed at condemning white supremacists and neo-Nazis,
he stood up for them
- for that he must be censured. The president's conduct is un-American and it must stop," she said.
As many as 47 lawmakers led by Ms Jayapal introduced a resolution urging Donald Trump to strongly condemn white nationalists, the Ku Klux Klan, neo-Nazis and other hate groups responsible for the violence.
It also urged Mr Trump to remove all individuals from the White House and the Trump administration, including Steve Bannon, Stephen Miller and Sebastian Gorka, who support white supremacists.
Meanwhile, Senators Mazie K Hirono and Maria Cantwell wrote to Attorney General Jeff Sessions urging him to create an interagency task force to address the tragic increase in hate crimes that has stricken the US.
The recent outburst of violent racism and domestic terror activity by white supremacist organisations and individuals in Charlottesville, Virginia, has made the senators' call for action even more urgent.
"President Trump's reluctance to quickly and directly condemn the hate, bigotry, and racism of the white supremacists and members of the Ku Klux Klan that gathered in Charlottesville was deeply alarming to us and to millions of Americans," the Senators wrote.
"In light of the horrific attack and hatred demonstrated this weekend in Charlottesville, we urge you to act quickly to address the alarming rise of hate in our country," they said.
The 'Unite the Right' march had been organised to protest against the proposed removal of a statue of General Robert E Lee, who commanded the pro-slavery Confederate forces during the American Civil War. Violence broke out after they were confronted by anti-racism groups and later a car ploughed into one group of anti-racism protesters.
Donald Trump had blamed both sides
including the "alt-left" for the deadly violence.