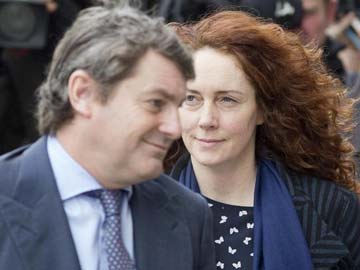 London:
Rebekah Brooks, the former boss of Rupert Murdoch's British newspapers, denied on Thursday knowing a phone-hacking private detective at a paper she edited, as her lawyer told her trial of "agendas being pursued" in the background of her case.
Taking the stand for the first time on day 62 of one of Britain's biggest trials of recent years, Brooks began her defence against phone-hacking allegations which rocked her former boss's media empire and shook Britain's establishment.
Her lawyer Jonathan Laidlaw said Brooks, 45, a close friend of the last three British prime ministers, should not be judged on her ties to Murdoch or her rapid rise through his company.
He told the jury at London's Old Bailey criminal court they should forget the myth that had built up around one of the most famous women in Britain and to "see Mrs Brooks as she is, not as she is described or spoken of".
"She's not being tried for News International's strategy, for its policies, its influences or its corporate views," he said, referring to Murdoch's British newspaper business.
The case centres on widespread phone-hacking by journalists at the 168-year-old News of the World Sunday tabloid, which Murdoch shut amid huge public anger in July 2011, and on other allegations of crimes by staff on its sister daily The Sun, both of which she used to edit. Six other people are also on trial.
"There's an awful lot which is going on in the background to this case," Laidlaw said. "In its shadow there are agendas being pursued elsewhere."
The jury has heard that three senior journalists who held news editor roles at the News of the World had admitted phone-hacking offences. A private detective Glenn Mulcaire who also worked for the paper has pleaded guilty to hacking voicemails.
Brooks, who wore a blue dress with white cardigan, said she had never heard Mulcaire's name mentioned in her presence. When asked if she was aware of his ability to hack into voicemail messages on mobile phones, she replied: "No, not at all".
Brooks was also asked about her dealings with two News of the World journalists who had admitted phone-hacking offences, Greg Miskiw and Neville Thurlbeck.
"I didn't really know that much about him personally," she said of Miskiw, whom she put in charge of a newly-formed investigations unit on becoming editor. Asked whether this unit was set up to hack phones, she replied: "That's not correct".
Brooks detailed the advice she had been given by Murdoch and also the resistance she had faced as she rapidly rose, as a young woman, through the ranks of the male-dominated newsroom.
"There was probably a bit of old school misogyny," she said.
RAPID RISE
Brooks appeared apprehensive at the start of the questioning but relaxed as she explained the inner workings of a newspaper. She sometimes cast glances at her husband Charlie and her former assistant Cheryl Carter, who are also both on trial.
The jury was told she went to the News of the World to work on its magazine as a researcher in 1989.
Despite a lack of experience and only basic journalism training, the court heard how she rapidly rose through the ranks. By March 1994, she was deputy features editor and the following September, at the age of 27, was made acting deputy editor of what was then Britain's biggest-selling newspaper.
"It was a tough world," she said, adding she later helped form a group with female staff from other papers called "women in journalism", which some male journalists dubbed "whinge".
She said Murdoch would call the editors of his two British Sunday titles every Saturday evening, wherever he was, to find out what was going into their papers. "He was news-obsessed."
In personal advice to Brooks, Murdoch advised her not to become the focus of attention herself. "Early on I remember him coming into my office for the first time ... and he said it's a big challenge at a young age," she said.
By 1998, Brooks was made deputy editor of the Sun tabloid, Britain's biggest-selling daily paper. "I was 29 with not much to show," she said of the "mixed" reaction to her appointment.
Two years later, she was back at the News of the World, this time as editor, and it was then that the prosecution say she was involved in a phone-hacking conspiracy.
Earlier, the jury were instructed by the judge to return a verdict of not guilty on one of two charges against her of conspiracy to commit misconduct in a public office.
This related to an allegation she had approved an illegal 4,000-pound payment for a picture of Prince William wearing a bikini while at a military academy party in 2006.
Brooks is still accused of four other offences relating to conspiracy to hack voicemail messages on mobile phones, authorising illegal payments to public officials and then plotting to hinder a subsequent police investigation.
© Thomson Reuters 2014