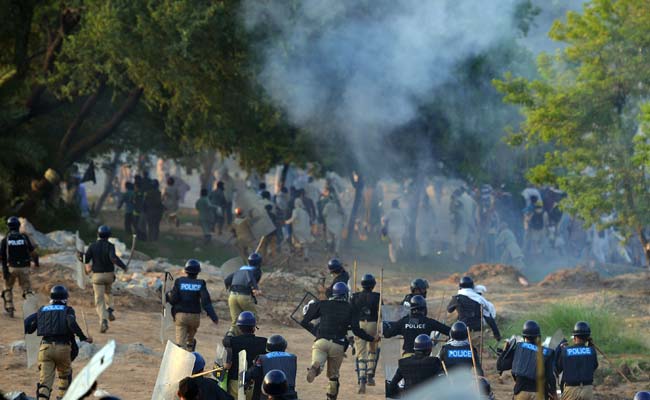 Islamabad:
Anti-government protesters armed with rocks and wooden clubs clashed with police in Islamabad Monday, hours after the powerful army called for a peaceful resolution to the political crisis rocking Pakistan.
Opposition groups marched to the capital on August 15 in a bid to topple Prime Minister Nawaz Sharif, triggering a crisis that has raised the spectre of military intervention in a country that has been ruled for half its history by the army.
The army urged the government and protesters to settle their differences peacefully on Sunday night, but warned it was "committed to playing its part in ensuring security of the state", after clashes left three dead.
(Pakistani Army Calls for Calm After Protest Turns Deadly)
Violence began on Saturday night when followers of former cricketer Imran Khan and populist cleric Tahir-ul-Qadri tried to storm Sharif's official residence.
Fresh clashes erupted on Monday morning as heavy rain fell on the capital, as more than 3,000 demonstrators again tried to march on the building, an AFP journalist at the scene said.
Protesters pelted riot police with stones and some smashed up motorbikes with wooden clubs. Police tried to respond with teargas but the heavy rain appeared to make it ineffective.
- Khaki spectre -
After an emergency meeting of top brass in the garrison city of Rawalpindi, the army voiced support for democracy - but also stressed its own role in maintaining security.
"While reaffirming support to democracy, the conference reviewed with serious concern, the existing political crisis and the violent turn it has taken, resulting in large scale injuries and loss of lives," the military said in a statement.
"It was once again reiterated that the situation should be resolved politically without wasting any time and without recourse to violent means."
They added: "(The) army remains committed to playing its part in ensuring security of the state and will never fall short of meeting national aspirations."
The statement opened with a backing for the government but ended on a hawkish note - which a senior government official said reflected differing views within the army's top brass.
Pakistan's last period of military rule ended in 2008. But the official said another coup remained "less likely".
"We have travelled this road for seven to eight years, so things have been tested the institutions are much stronger," he said.
"I hope and pray the system survives. There will be some losses but they will be recovered," he added, referring to the significant concessions that observers say the government will need to give the army if it is to survive.
The protest leaders claim the 2013 election which swept Sharif to power was rigged, though local and foreign observers rated the polls as relatively fair and credible.
Speaking from the roof of a shipping container Sunday, Khan vowed to continue his protest "until our last breath", adding he would file murder charges against the prime minister over the violence.
('Nawaz Sharif Cannot Scare Us,' Says Imran Khan, Vows to Continue Protests in Pakistan)
The weekend clashes left nearly 500 people injured, including some children and nearly 100 police officers.
The protest leaders have drawn thousands to the streets of Islamabad, but their call has not mobilised mass support in a country of 180 million people.