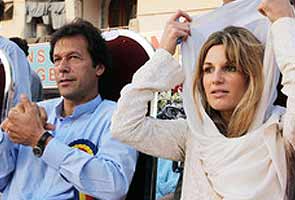 London/Islamabad:
Cricketer-turned politician Imran Khan's former wife Jemima Khan has praised the success of his political party Pakistan Tehreek-e-Insaf (PTI), which was set to form government in the restive Khyber-Pakhtunkhwa province.
An elated Jemima said that it was a great success for a political party, which once held just one seat the parliament, Geo News reported.
Imran Khan's party said early today it would form the next government in Khyber Pakhtunkhwa province.
"For Tehreek-e-Insaf it is a big day, a golden day," PTI leader Assad Omar said.
"A party which has no existence in parliament has emerged the second largest national party and the leading party in Khyber Pakhtunkhwa where God willing it is going to form a government," he said.
"Perennially perplexing that so many still vote for leaders who've been tried, tested & failed multiple times (& dismissed for corruption)" 39-year-old Jemima said in a twitter message.
London-based Jemima, in another twitter message, lauded Pakistanis for turning out to vote in the face of all the terror threats.
She also tweeted that their sons were wearing Imran Khan's kurtas yesterday.
Jemima earlier had also said that she was praying for peace and safety of Pakistanis during the polls.
She had married Imran Khan in 1995. The couple got divorced in 2004.
They have two sons Sulaiman Khan and Qasim Khan from the nine-year marriage.