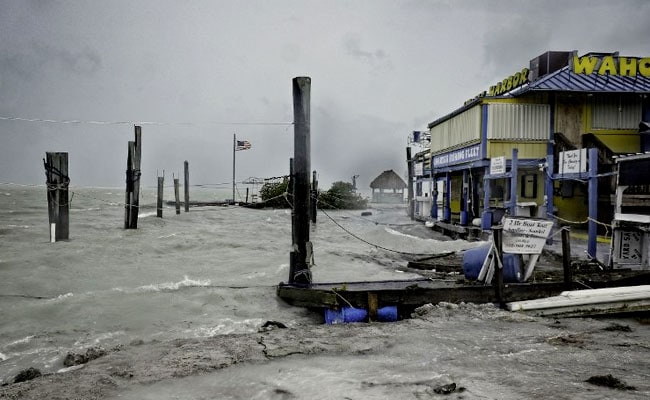 Highlights
Hurricane Irma lashed Florida Keys with raging wind gusts
The eye of the Category 4 storm was 15 miles southeast of Key West
'This is an extremely dangerous situation,' the weather office had said
Miami:
Large and extremely powerful,
Hurricane Irma is sweeping toward Florida
, its rainbands and strong winds slamming the Keys and southern peninsula with hurricane-force winds. The storm, which strengthened to Category 4 intensity early Sunday, is likely to be among the worst hurricanes in the state's history.
The vicious storm will hit the Keys and Florida's west coast hardest, with a combination of destructive winds and a devastating storm surge. Winds well in excess of 100 mph could batter numerous population centers along Florida's west coast, including Key West, Naples and Fort Myers and up the coast to Tampa. And coastal waters could rise 10 to 15 feet above normally dry land, completely inundating homes, businesses, and roads.
"The Keys through Tampa will likely experience the worst storm surge event that area has seen in generations," said Bill Read, a former director of the National Hurricane Center.
At 8 a.m. Sunday, the eye of Irma was about to move over the Florida Keys, centered just 20 miles east-southeast of Key West. The storm, packing peak winds of 130 mph, was crawling to the north-northwest at 8 mph. The storm's eyewall, the narrow zone of most severe winds, was battering the Lower Keys. Then, it was predicted to move up the west coast of Florida by Sunday afternoon.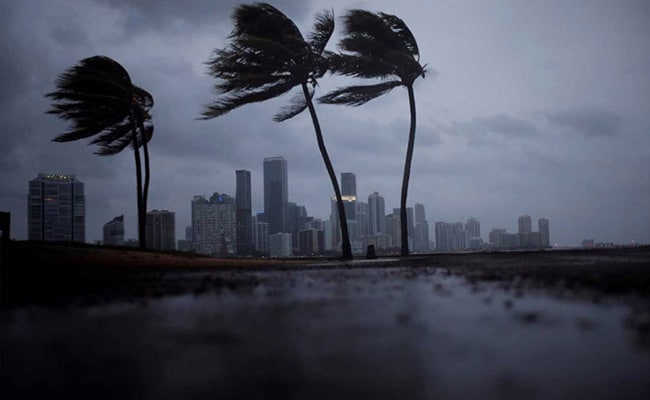 Winds over the Keys were raging Sunday, frequently gusting between 80 and 90 mph in Key West. An extreme wind warning was issued for the Lower Keys, including Key West, through 9:15 a.m., for "extremely dangerous and life-threatening" wind gusts. "Treat these imminent extreme winds as if a tornado was approaching and move immediately to the safe room in your shelter," the National Weather Service warned.
Spiral bands were also unleashing tropical-storm-force winds in southeast Florida. Miami's sustained winds were near 50 mph Sunday morning, gusting to 60 mph. Fort Lauderdale/Hollywood International airport reported gust of 70 mph late Saturday. More than 550,000 customers were without power, mostly in Miami-Dade, Broward and Palm Beach counties.
As the storm's spiral bands walloped the Keys and South Florida, the potential for tornadoes arose in the swirling air and the Weather Service issued watches and warnings. Eyewitnesses captured photographs of a twister moving off the ocean toward Fort Lauderdale on Saturday evening.
"In the FLORIDA KEYS, it is a full-scale hurricane emergency," Bryan Norcross, The Weather Channel's hurricane specialist, posted to Facebook. "Key West is probably going to get its worst storm in modern history, and perhaps ever."
He added: "In SOUTHWEST FLORIDA - the NAPLES-FT. MYERS-CAPE CORAL area, the potential exists for the worst hurricane in history."
Hurricane warnings cover all of Florida except the western panhandle. Tropical storm warnings spread over almost all over Georgia, including Atlanta, eastern Alabama, and the southern South Carolina coast.
A storm-surge warning was also issued for much of the Florida peninsula (except for a small section from North Miami Beach to Jupiter Inlet), and even extended up the Georgia coast into southern South Carolina. The Hurricane Center said this would bring the risk of "dangerous" and "life-threatening" inundation and that the threat was highest along Florida's southwest coast and in the Florida Keys, where it said the surge is expected to be "catastrophic."
Because of the shift in the most likely storm track to the west, Miami and Southeast Florida were most likely to miss the storm's intensely destructive core, known as the eyewall, where winds are strongest. Even so, because of Irma's enormous size, the entire Florida peninsula and even the panhandle were likely to witness damaging winds. The National Hurricane Center warned the storm would bring "life-threatening wind impacts to much of the state."
A computer model projection showed nearly 2 million power outages were possible in Florida and the Southeast U.S. from the storm's winds.
While Irma's peak winds had lessened some on Saturday, easing down to 120 miles per hour, as its center scraped over Cuba's north coast, it restrengthened over the extremely warm water of the Florida straits (nearly 90 degrees).
In South Florida, conditions will continue to deteriorate Sunday as Irma chugs up the coast.
The storm will cross the Florida Keys (near Marathon) on Sunday morning, before moving up the west coast Sunday afternoon and evening, battering Marco Island, Naples, Cape Coral, Fort Myers, Port Charlotte, Sarasota and Tampa.
The storm track could still shift slightly west. If it shifts west, the center could stay over the Gulf of Mexico until hitting northern portion of Florida's Gulf Coast Sunday night, perhaps in the Big Bend area south of Tallahassee.
Models run Saturday night suggested a landfall between Naples and Tampa on Sunday afternoon or evening was plausible, but pinpointing the exact landfall location is difficult for a storm predicted to parallel a long coastline.
- - -
Effects on Florida
Here's a guide to what is most likely and where. . .
Florida Keys
Time frame for worst conditions: Through Sunday evening
Biggest impact threat: Storm surge and destructive winds
The Keys are poised to take a direct and devastating hit from Irma. Winds will be on the increase into Sunday morning, with sustained hurricane-force winds up to 125 mph expected by dawn. Catastrophic storm surge levels of 10 feet or more could inundate the entire area in a manner similar to the destruction caused by Hurricane Donna in 1960, which devastated the Keys. As a result of the extreme danger that Irma poses to the area, the National Weather Service office in Key West issued some of the strongest language you will ever see from a weather warning.
- -
Southwest Florida to Tampa Bay
Time frame for worst conditions: Sunday
Biggest impact threat: Storm surge and wind
Each shift in Irma's track has spelled more bad news for southwest Florida. The Tampa Bay area hasn't had a direct hit from a hurricane since 1921, but this part of the state is home to some of the most vulnerable real estate to flooding.
The current forecast track has Irma making her final landfall in between Naples and St. Petersburg. Given the current forecast, sustained tropical-storm-force winds are expected Sunday morning, with winds gradually increasing. The Naples area may well be hit the by the strongest winds, with sustained hurricane force winds of 100 to 125 mph with higher gusts moving in by Sunday midday or afternoon.
Storm surge will be an especially large concern, with upward of 10 to 15 feet of surge possible as the center of Irma passes by. "This is fast moving, destructive water," the Weather Channel's Norcross said. "You cannot drive through it and you cannot stand in it. It will sweep buildings away. Storm surge is the deadliest hazard in a hurricane."
- - -
Miami/Fort Lauderdale/Dade County
Time frame for worst conditions: Through Sunday evening
Biggest impact threat: Heavy rain and strong winds
Despite the continued shift westward in Irma's forecast track, the Miami area is by no means off the hook. Sustained tropical-force winds will continue coming in waves throughout the day as spiral bands cycle in, with hurricane-force wind gusts embedded in some of the stronger rainbands. The worst conditions will persist through much of the day Sunday, with sustained winds of 60-plus mph with gusts in excess of 75 mph. Rainfall totals will range from 8 to 15 inches, with the bulk of the rain coming in bursts where rainfall rates could reach four inches per hour.
While still a concern, storm surge will not be as serious here as in other parts of the state due to a combination of a lesser rise in water (3 to 6 feet) and deeper offshore waters.
- - -
Orlando/Central Florida
Time frame for worst conditions: Sunday morning through Monday morning
Biggest impact threat: Heavy rain/strong winds
Inland areas will not be immune to impacts from Irma. As it has been noted, Irma is an extremely large storm, with hurricane force winds extending some 90 miles from the center. As the storm begins to interact with more land, it will lose some of its peak wind speeds but actually grow in physical size. Sustained tropical-force winds will begin striking Orlando and central Florida by Saturday afternoon, with hurricane-force wind gusts possible late Sunday night.
The somewhat forgotten danger with landfalling hurricanes in the extreme rainfall that can develop over inland areas. Flooding will certainly be a concern as rainfall totals are expected to be in the range of 8 to 18 inches by Monday.
- - -
Potential effects on Georgia and the southeastern U.S.
Beyond Florida, there is the likelihood for damaging winds, flooding rain and a coastal storm surge farther north. Georgia is likely to see some of the worst effects Sunday night into Monday.
Irrespective of Irma's track its circulation is enormous, so it would still likely push a significant storm surge toward the Georgia and South Carolina coasts, where a storm surge warning is in effect.
Tropical-storm and even hurricane-force winds are also likely to affect much of Georgia, with downed trees and power outages could be a big problem there. Strong winds could expand into southern South Carolina and eastern Alabama as Monday wears on.
Heavy rains are also likely to swell north and west into Alabama, Tennessee and western North Carolina Monday into Tuesday.
"All areas seeing heavy rainfall from Irma will experience a risk of flooding and flash flooding," the Hurricane Center said.
- - -
The Washington Post's Capital Weather Gang hurricane expert Brian McNoldy contributed to this report. Credit to tropical-weather expert and occasional Capital Weather Gang contributor Phil Klotzbach for some of the statistics in this section.(This story has not been edited by NDTV staff and is auto-generated from a syndicated feed.)