New Delhi:
Highlights
Tammie Jo Shults landed a Southwest Airlines flight after engine failure
She is being praised for the way she calmly handled the situation
She even hugged and consoled the traumatized passengers after landing
The heroic 56-year-old pilot Tammie Jo Shults safely landed a Southwest Airlines flight after a mid-air explosion. After making a seamless emergency landing on Tuesday, she hugged traumatized passengers hugged them and consoled them before they de-boarded, say media reports.
Ms Shults, who is a former Navy fighter pilot, and one of the first women to fly an F-18, was praised on social media for her bravery and the way she calmly handled the chaotic situation.

"The pilot Tammy Jo was so amazing! She landed us safely in Philly," said Amanda Bourman on Instagram. "God sent his angels to watch over us," she said.
"She has nerves of steel," another passenger Alfred Tumlinson said, adding, "Everybody just was applauding. I'm just telling you they were just applauding. It was amazing that we made it to the ground."
"She came back and talked to every individual in there personally and shook every hand," Tumlinson was quoted as saying by The Washington Post.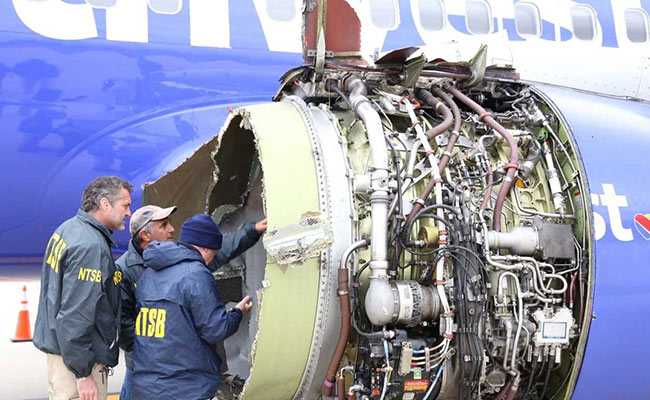 The engine on Ms Shults's airplane exploded on Tuesday, killing one passenger and nearly sucked another out of a shattered window.
There were 148 panic-stricken people on-board and Ms Shults deftly guided the plane onto the runway, touching down at 190 mph, avoiding a far worse disaster.
A native of New Mexico, the courageous pilot has served 10 years in the Navy, reaching the rank of lieutenant commander. She left the Navy in 1993 with her husband. She has two children.
She is a devout Christian who previously said in her blog that sitting in the cockpit gives her 'the opportunity to witness for Christ on almost every flight.'
(With inputs from agencies)
Election Results for Lok Sabha Election 2019 will be out on May 23. Get the latest election news and live updates on ndtv.com/elections. Catch all the action on NDTV Live. Like us on Facebook or follow us on Twitter and Instagram for news updates from each of the 543 parliamentary seats for the election 2019