One person died and seven others were injured after an engine blew apart, sending shrapnel into the plane and forcing a
Southwest Airlines flight
to make an emergency landing at Philadelphia International Airport on Tuesday.
It was the first passenger fatality on a U.S. carrier since 2009, federal officials said, and the first passenger fatality in Southwest's 51-year history.
National Transportation Safety Board Chairman Robert Sumwalt said at about 11:15 a.m. Tuesday, Southwest flight 1380 en route to Dallas Love Field suffered an "apparent in-flight engine failure" of its left engine. The plane was nearly an hour into a journey that had begun at New York's LaGuardia Airport on Tuesday morning when the engine blew out, terrifying passengers.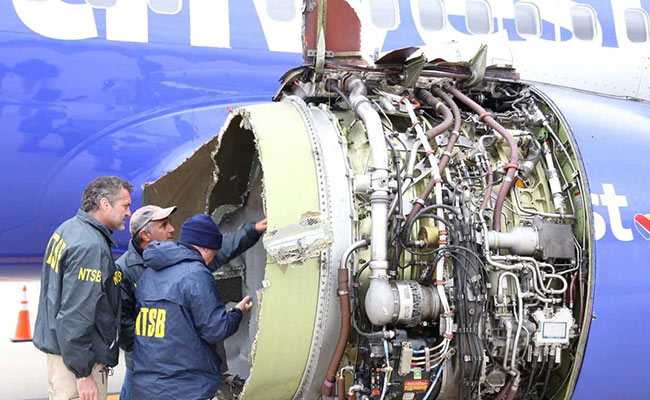 Photos and footage posted to social media showed the aftermath of the apparent explosion, which sprayed shrapnel and caused a plane window to be blown out in a chilling episode that one passenger streamed live on Facebook. Nervous passengers can be seen bracing for impact as oxygen masks dangle from the ceiling of the plane's cabin.
"Something is wrong with our plane! It appears we are going down! Emergency landing!! Southwest flight from NYC to Dallas!!" tweeted passenger Marty Martinez, who streamed the moments before the emergency landing on Facebook.
Martinez said on Facebook that he purchased the in-flight WiFi so he could reach his loved ones, thinking these might be his final moments.
Sumwalt, who confirmed the fatality, said the NTSB will examine the engine and the plane's fuselage in Philadelphia before shipping the engine offsite and deconstructing it to determine what went wrong.
Sumwalt spoke to the media at a news conference at Washington's Reagan National Airport before boarding a flight to Philadelphia with other NTSB investigators.
"We do know that there have been injuries and we would like to give our condolences to all of those who affected by this event," Sumwalt said. "We're just now getting out there - this will be an extensive investigation."
The NTSB said there were 144 passengers and five crew members aboard the flight.
The safety body declined to speculate on the cause of death of the passenger, who was not immediately identified.
Southwest said the plane involved was a Boeing 737-700. The airline said the flight was diverted after the crew reported problems to an engine that damaged the plane's fuselage.
Southwest Chairman and CEO Gary Kelly, in a conference call with reporters, said the plane was last inspected Sunday, but did not elaborate as to whether it was Southwest mechanics or the Federal Aviation Administration that did that inspection.
He called the 737 engines "proven, very reliable." He said the plane's pilot has been with the airline since 1994.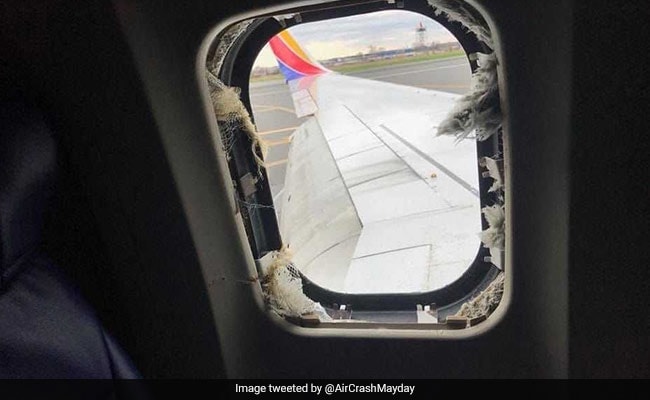 "The 737 is a workhorse of the airline industry," he said. "I think [the crew] handled the aircraft magnificently."
In an earlier statement the airline said, "We are deeply saddened to confirm that there is one fatality resulting from this accident. The entire Southwest Airlines Family is devastated and extends its deepest, heartfelt sympathy to the Customers, Employees, Family Members, and loved ones affected by this tragic event."
The incident disrupted travel at the airport for several hours. The FAA issued ground stops for Philadelphia - meaning flights bound for the city could not depart their originating airports - that stretched several hours.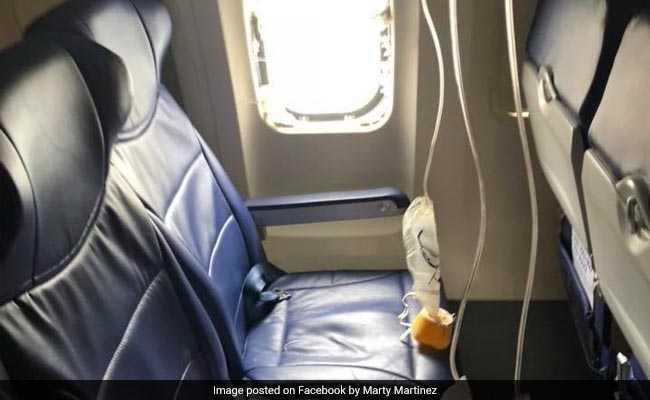 Aboard the plane, passengers witnessed a terrifying sequence of events. Joseph Marcus, 24, was seated near the front of the plane when he heard an explosion and a loud sound coming from the back of the plane. He said he looked out the window and saw the engine on his side of the plane was completely black.
"The engine was totally done. Nothing was happening," said Marcus, who is CEO of an app development company in Manhattan.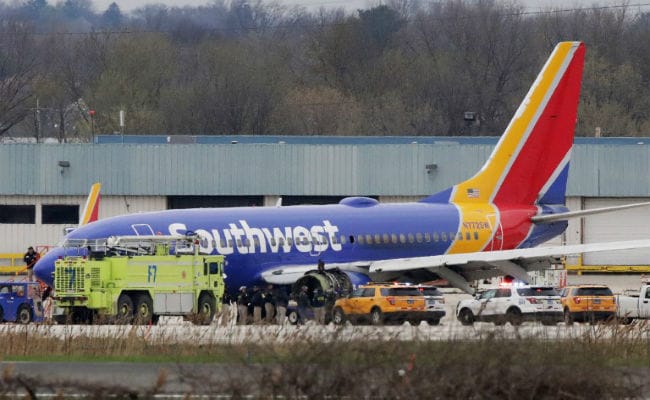 Immediately, oxygen masks dropped from overhead. People started screaming and crying.
Marcus could hear a commotion behind him, which he later learned from other passengers was the sound of them trying to help a woman who was being sucked out of the shattered window. The plane started to tilt toward the left, the side where the explosion occurred.
"It was pretty chaotic," he said. "I was just trying to make sure everyone was okay. I was trying to be positive and make sure I could help in any way."
The flight attendants were on the intercom repeatedly, ordering passengers to brace for impact. Passengers grew silent because the masks were over their faces; they could not breathe otherwise, he said.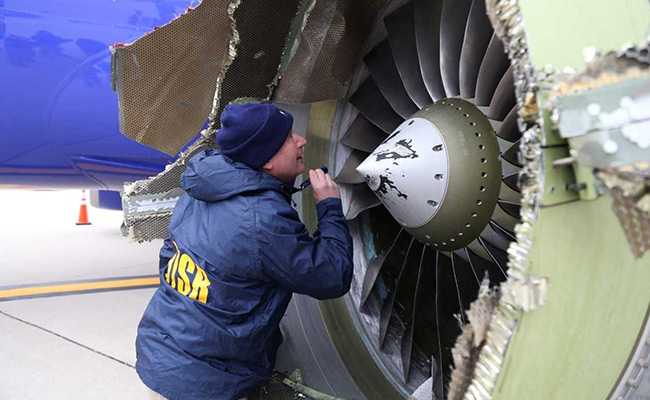 "We landed somehow. The pilots did an unbelievable job, and thanks to them we made it out of there," he said.
Once the plane landed, people yelled for help from anyone who had medical training to assist the passenger who had been seated near the window. Marcus said several people responded.
"They took someone out on a stretcher. That person was very bloody," Marcus said.
Several people said they thought they had blown-out eardrums from the sound of the explosion, Marcus said.
"The crew was amazing," he said. "I'm just happy that I'm OK, and that most of us are going to be able to go back to their families."
Passengers took to social media to praise the quick thinking and resolve of the flight crew, calling the pilot a hero.
Southwest declined to name the pilot, but passengers said she identified herself as "Tammie Jo." They said she was a calming voice during the crisis and greeted passengers as they got off the plane.
Other media identified her as Tammie Jo Shults.
Philadelphia Fire Commissioner Adam Thiel said at a news conference Tuesday afternoon that seven people on board suffered minor injuries, but none of them were taken to the hospital.
"It's our understanding that the passengers on board the aircraft, in addition to the flight crew and the cabin crew, did some pretty amazing things under very difficult circumstances," Thiel said.
When firefighters reached the airplane, one of the engines was on fire, Thiel said, and the airplane was still leaking fuel when the fire was extinguished.
It was not the first time that Southwest has experienced an engine failure at cruising altitude. A 2016 flight from New Orleans to Orlando, Florida, had an engine failure at cruising altitude that caused a gash in the fuselage of the 16-year-old aircraft.
Passengers on that plane said they "heard a loud boom and smoke trailing from the left engine, and saw metal flapping after the smoke cleared."
Sumwalt said it was too soon to draw conclusions about whether the 737 in Tuesday's incident suffered the same problem, an "uncontained engine failure," where engine components come apart from protective features designed to keep them from flying loose.
"We do know that parts came off the engine but those parts may not have been in that section of the engine associated with protection of the engine," Sumwalt said.
He said NTSB investigators would determine whether the engine failure would be classified as "uncontained."
"Even though we believe there were parts coming out of this engine," he said, " . . . at this point the NTSB, we're classifying this as an engine failure."
Sumwalt said the safety body examines three or four midair engine failures per year, not all of which involve U.S. carriers. The panel's investigators will examine the plane's propulsion system and airworthiness, and a special team will provide assistance to affected passengers and their family members, he said.
The last incident involving a U.S. airline that resulted in passenger deaths occurred in 2009, when a Colgan Air flight en route from Newark to Buffalo crashed, killing all 49 on board and one person on the ground. The airplane had departed from Newark Liberty International Airport.
The most recent aviation incident on U.S. soil to result in a passenger death took place in 2013, when a Asiana Airlines flying from Seoul crashed on its final approach to San Francisco, ultimately killing three passengers.
Southwest is notable among airlines because the only airplanes it flies are various models of the Boeing 737. The airline started out as Air Southwest in 1967, adopting its current name four years later.
While the airline has established a track record of safety, there have been several incidents.
Almost five years ago, a Southwest flight from Nashville, Tennessee, crash-landed at LaGuardia Airport, scraping down the runway in a shower of sparks before ending up just off the runway.
In 2011, a plane bound for Sacramento, California, diverted to Yuma International Airport in Arizona after a portion of the airplane's skin peeled back, causing a gaping hole in the cabin area.
That 2011 incident came two years after a flight headed from Nashville to Baltimore-Washington International Airport had to land in Charleston, West Virginia, after a hole opened near its tail.
A 6-year-old boy who was sitting in a car died in 2005 when a Southwest plane landing in the snow at Chicago's Midway International Airport skidded off the runway and into a street.
Five years before that, a passenger named Jonathan Burton broke down the cockpit door on a flight from Las Vegas to Salt Lake City. Other passengers restrained Burton, who died later from the resulting injuries.
That same year, 2000, a plane landing at the Hollywood Burbank Airport overran the runway, injuring 43 on board. The captain of the flight later was fired.
(Except for the headline, this story has not been edited by NDTV staff and is published from a syndicated feed.)
Get Breaking news, live coverage, and Latest News from India and around the world on NDTV.com. Catch all the Live TV action on NDTV 24x7 and NDTV India. Like us on Facebook or follow us on Twitter and Instagram for latest news and live news updates.