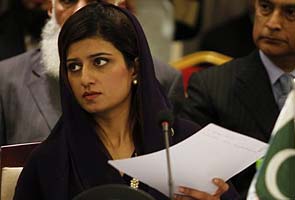 Islamabad:
Hours after US Secretary of State Hillary Clinton told NDTV that Washington believes Al Qaeda chief Ayman al-Zawahiri is somewhere in Pakistan, Islamabad has denied any such possibility. Pakistan's Foreign Minister Hina Rabbani Khar said the government has no information about the presence of Zawahiri in the country. "If anybody has any information in this regard, they should share it with Pakistan," Ms Khar remarked while briefing the Parliamentary Committee on National Security in Islamabad on Monday.
Pakistan Foreign Office spokesperson Moazzam Khan too dismissed Ms Clinton's remarks on Zawahiri as "conjectures". "If the US has any evidence, information or actionable intelligence, they should share it with us," said Mr Khan.
Earlier on Monday, speaking exclusively to NDTV in Kolkata, US Secretary of State Hillary Clinton said, "we want to disable Al Qaeda and we have made a lot of progress in doing that. There are several significant leaders still on the run; Zawahiri who inherited the leadership from bin Laden is somewhere, we believe, in Pakistan. So we are intent upon going after those who are trying to keep Al Qaeda operational and inspirational."
For years, Pakistani leaders had denied slain Al Qaeda chief Osama bin Laden's presence in the country before he was killed in a unilateral US military raid in the garrison town of Abbottabad in May last year.