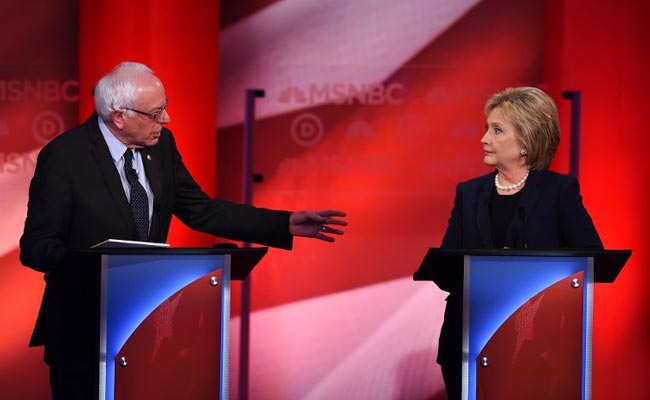 Durham, United States:
Hillary Clinton mounted a sharp attack on Bernie Sanders on Thursday, accusing her Democratic challenger for the White House of smear tactics and warning his promises of political revolution "don't add up."
The 90-minute debate at the University of New Hampshire in the small college town of Durham comes three days after Clinton clinched the narrowest victory in Iowa caucus history against Sanders and five days before the first state primary in the 2016 election process.
Sanders, the 74-year-old independent senator from neighboring Vermont, leads by 20 points in the latest New Hampshire polls with a campaign that outstripped the Clinton fundraising machine in January.
While most expect the former secretary of state to ultimately win the Democratic nomination, she faces a much tougher battle than once thought as Sanders whips up passionate support among young voters with a grass-roots campaign.
Clinton sought to dilute some of Sanders's support among left-leaning voters by presenting herself as a battle-hardened progressive who can get things done to improve the lives of struggling Americans.
"Senator Sanders and I share some very big progressive goals," the former first lady said. "But the numbers just don't add up from what Senator Sanders has been proposing."
Sanders, who identifies as a democratic socialist -- unique for a US presidential candidate -- hammered home his opposition to what he believes is the corrosive power of Wall Street on American democracy.
He insisted that Clinton cannot claim to be both a moderate and a progressive, criticizing her for raising $15 million from Wall Street -- prompting some of the night's sharpest exchanges.
"Enough is enough," said Clinton after listing her record on racial injustice, children's rights and fight to widen American access to health care. "I don't think these attacks are worthy of you," she said.
Smear
"I think it's time to end the very artful smear that you and your campaign have been carrying out in recent weeks," she added to a smattering of boos among the in-house audience of 600.
Sanders hit back by insisting that billionaires undermine democracy in the United States by spending unlimited funds on election campaigns.
"I am the only candidate that does not have a Super Pac," Sanders retorted to cheers, saying he had raised $3.5 million in individual contributions averaging $27 from ordinary Americans.
Sanders presented himself throughout as a fresh voice calling for a political revolution to raise the voice of working Americans and young voters in the political process, offering universal health care and tuition-free public colleges.
Asked why he thinks he can deliver his sweeping reforms, Sanders quipped: "I haven't quite run for president before," to cheers, alluding to Clinton's previous bid for the White House.
Clinton meanwhile swiped at Sanders as a "self-proclaimed gatekeeper for progressivism" and got cheers for saying only he could portray a woman trying to become the first female president as an establishment figure.
Youth vote
Sanders claimed a moral victory in Monday's Iowa vote, winning 49.6 percent to Clinton's 49.8 percent, in the first vote of the US election cycle having trailed as a distant second only months earlier.
Clinton is now hoping to shave his New Hampshire lead and regain some momentum going into friendlier territory later this month in Nevada and South Carolina.
Their debate showdown, scheduled at the last minute, is the first without Democratic challenger Martin O'Malley, the former Maryland governor who dropped out after a disastrous showing in Iowa.
Clinton, 68, acknowledges she faces an uphill battle in winning over the younger vote, which polls show identifies strongly with Sanders' poverty-busting agenda and free tuition at public colleges.
The more moderate Clinton is about incremental change: slow but steady reforms on Wall Street, tweaks to Obama's Affordable Care Act and expanding university scholarships.
An NBC, Wall Street Journal, Marist poll released hours before the debate gave Sanders 58 percent support among likely Democratic primary voters in New Hampshire and Clinton 38 percent.
Sanders leads the former first lady among voters aged 18-29 by 76 to 24 per cent, the poll found.
Republicans are also swarming to New Hampshire for the crucial February 9 vote, with Donald Trump eager to reclaim the lead after he was beaten in Iowa by arch-conservative Senator Ted Cruz.
The billionaire New York real estate tycoon also faces the sudden, dramatic rise of Senator Marco Rubio, who is gaining traction among mainstream Republican voters.
On the Republican side, Trump is firmly ahead in New Hampshire, with the telegenic Rubio moving into second place ahead of Cruz, according to the latest University of Massachusetts/Lowell poll.