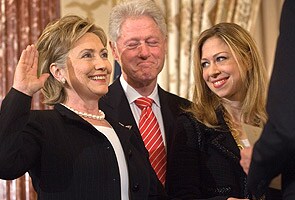 Washington:
With hardly a fortnight to go for the wedding of former first daughter Chelsea Clinton, her mother Secretary of State Hillary Clinton refuses to divulge the nuptial details, but said, the approaching marriage was making her and former President Bill Clinton "nervous wrecks".
"If Bill makes it down the aisle in one piece, it's going to be a major accomplishment," Clinton said in an interview to
NBC
in Islamabad, commenting that both she and her husband were very emotional over the ceremony.
"We are both so emotional and the wedding is making us nervous wrecks," the Secretary of State said when asked about the July 31st wedding.
30-year-old Chelsea, a Coloumbia University graduate is to tie the knot with investment banker Marc Mezvinsky, in Rhineback in upstate New York.
Clinton continues to stick to her pledge not to talk about wedding details. "My lips are sealed. I am under oath not to divulge the details".
But mystery continues to surround the wedding with media reports saying that the guest list would be upto 500 strong, which will include who's who of politics and entertainment.
Though, the Secretary of State refuses to part with details, media reports said some of the biggest names in politics and entertainment would be there.
According to CBS's list, the guests at the wedding would be headed by President Barack Obama and the first family, singer Barbra Streisand, filmmaker Steven Spielberg, his wife Kate Capshaw.
Others on the list are media moguls Oprah Winfrey and Ted Turner and former British Prime Minister John Major and historian Doris Kearns Godwin.
But, whether the guest list would include notables from American Indians or South Asians is still a mystery and as is whether Indian cuisine would find its way to the wedding menu.
Both Hillary as well as former President are self-confessed lovers of Indian food.