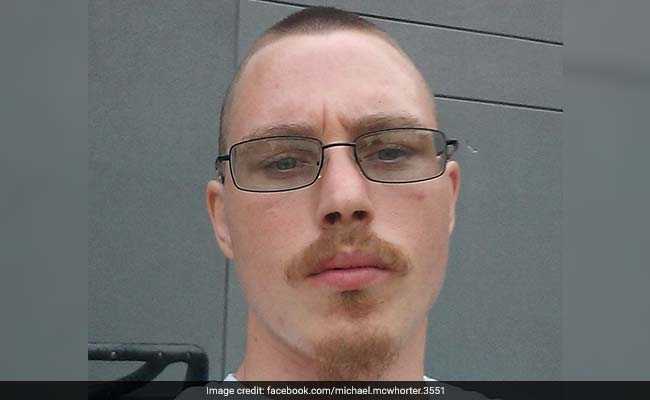 Three men - including the owner of a company that submitted a bid to build President Donald Trump's border wall - bombed a Minnesota mosque in an attempt to drive Muslims out of the United States, according to a federal complaint.
The three men from rural Illinois were arrested and charged Tuesday after one of them said that they were responsible for bombing the Dar Al-Farooq Islamic Center in a Minneapolis suburb last summer.
Michael McWhorter told federal agents that the trio did not intend to kill anyone, but wanted to "scare" Muslims "out of the country" and to "show them hey, you're not welcome here, get the f--- out," according to the complaint filed Tuesday.
The bombing on Aug. 5, 2017 did not result in injuries or deaths. Still, it amplified fears throughout Muslim communities in Minnesota, where many Somali migrants have settled. A Pew Research Center survey released in July 2017 found that 75 percent of American Muslims felt there was "a lot" of discrimination against Muslims in the U.S.
Muslim leaders criticized Trump for not condemning the bombing, prompting Sebastian Gorka, at the time a White House national security adviser, to defend the president's silence.
"There's a great rule: all initial reports are false," Gorka said in August, citing a number of "alleged hate crimes . . . that turned out to actually have been propagated by the left."
The federal complaint, however, makes clear that wasn't the case with the predawn bombing of the mosque in Bloomington, Minnesota.
McWhorter, 29, told investigators last week that he and the others each had specific roles in the bombing.
McWhorter said Michael Hari, 47, was the bomb-maker and driver, and Joe Morris, 22, was responsible for breaking one of the center's windows, he said.
And McWhorter said he himself threw a homemade PVC pipe bomb into the building. According to the court documents, McWhorter described the explosive as a "huge a-- black powder bomb."
The three men have been charged with arson, the U.S. Attorney's Office in Minnesota said in a news release. It's unclear if the men will face additional charges; a spokesperson for the U.S. Attorney's Office did not immediately responded to a call seeking comment.
Attorneys for Hari and Morris, who appeared in federal court in Illinois on Tuesday, were not immediately available, either. No attorney has yet been listed for McWhorter, whose initial court appearance has not been scheduled.
McWhorter also admitted that the mosque bombing was part of a larger spree of illegal activity, according to the federal complaint.
The three men tried to bomb an Illinois abortion clinic three months later, he said, but their device didn't explode. Court records say a secretary at the Women's Health Practice in Champaign, Illinois, came to work one morning in early November to find a smashed window, broken glasses and a PVC pipe bomb inside a surgical room.
The following month, McWhorter said, the trio also robbed an Indiana home they believed belonged to a Hispanic drug dealer. Armed with automatic weapons, McWhorter and the others posed as police officers executing a search warrant but did not find any cash, he told investigators. He said they also robbed three Walmart stores in Illinois.
While the court documents largely revolve around McWhorter's statements, perhaps the most compelling figure in the federal complaint is Hari, the alleged bomb-maker and driver.
According to public records, Hari owns a business called Crisis Resolution Security Services, which last year submitted a design proposal for Trump's wall along the U.S.-Mexico border. A 4 1/2-minute YouTube video presentation posted in April called it "The Great Western IBW (International Border Wall)," which would be made of stone bricks reminiscent of the Great Wall of China.
The wall, a video narrator said, would follow existing highways and would not be built right on the border, to avoid disrupting private property. It would be made with 26-foot concrete walls sitting on a 30-foot packed earth berm. Its top would be a 22-foot-wide pedestrian roadway. It also would have arched bridges guarded by border security officials.
The cost, the video claimed, would be nearly $10.9 billion - cheaper than the Trump administration's estimates.
"The wall will be culturally significant, a powerful architectural statement of the determination of the American people to defend their nation and its Anglo-Saxon heritage, western culture and English language," the narrator said, adding: "The wall exists to protect the economic rights of the U.S. population and to protect our way of life from other people who have different value systems. This proposal defends and values border property rights of U.S. citizens. The wall embodies patriotic value for ages."
"Build that wall," the narrator said as the video ended. "Make America great again."
Hari, a former sheriff's deputy, told the Chicago Tribune in April that he foresaw his proposed wall as a possible tourist destination.
"They can use it for patrolling, but it's more for the public," he said. "People can go up there, walk it or bicycle it. We're probably the only ones who have submitted a proposal making it recreational."
The federal investigation into Hari and the other two men began in December after a confidential source gave authorities several pictures of guns and bomb-making materials that allegedly belonged to Hari.
There was also a picture of a book that included instructions on how to create thermite, a powder mixture that explodes when ignited and is used in incendiary bombs, court records state.
Another source who previously worked for Hari told investigators that Morris and McWhorter had talked about the mosque and abortion center incidents while they were all drinking one night. Morris claimed that Hari was going to pay them $18,000 for their participation in the mosque bombing, court records say.
McWhorter also told investigators that the three of them had planted explosive devices at the property of a man identified as J.O. in an effort to get that person in trouble.
On Feb. 19, 2018, ATF received an anonymous tip about "a possible terrorism threat" involving J.O. who had been buying "wierd [sic] chemicals like nail polish remover and battery acide" [sic], the tipster wrote, according to court records.
The tip, laden with misspellings and a racial slur, further said:
"i thought he was making meth because he has science things like beakers too but he said no it is for a n----- schredder and he has four big black suitcases in his shed and a little greay bag and they are full of stuff like pipes and caps and wires nails and he told me to watch the news this week . . . i am afraid someone will get hurt is someone doesnt do something i also sent something about it to the newspaper so if you just blow it off like you did that school schooter kid in florida the press will know you got a tip so you better check it out . . ."
McWhorter told investigators that Hari was the one who sent the tip.
J.O. and his wife told authorities that they did not know anything about the devices discovered on their property, and they believe Hari had placed them there. Investigators found a pipe bomb attached to a small green propane tank - similar to tanks that Hari owned, court records state.
(This story has not been edited by NDTV staff and is auto-generated from a syndicated feed.)