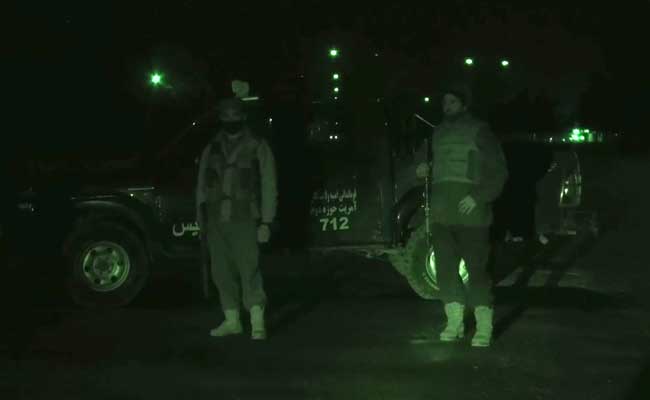 Highlights
At least four gunmen stormed the hotel and opened fire
Gunmen slipped through security cordons and entered through the kitchen
No immediate reports on extent of casualties
KABUL:
At least four gunmen stormed a major international hotel complex in the Afghan capital Saturday, touching off gun battles and sending guests and staff fleeing for cover, officials and staff said.
There were no immediate reports on the extent of casualties from the clashes at the hilltop Inter-Continental Hotel, one of the city's main sites for foreign visitors, envoys and other guests.
At least two attackers were killed, said Kabul police spokesman Basir Mujahid, but clashes were ongoing hours after the group entered the hotel and portions of the building were ablaze.
There also was no immediate claim of responsibility. The Taliban and Islamic State have each waged attacks in the past against diplomatic targets and other sites in Kabul.
The attack was the latest strike on a high-profile target in Kabul, deepening worries about the ability of militants to strike at the heart of Afghanistan's leadership. The hotel was hosting a meeting of more than 30 directors of communication and information technology companies from across the country.
On Thursday, the U.S. Embassy in Kabul issued a warning about "reports that extremist groups may be planning an attack against hotels in Kabul." It gave no specifics on possible targets or how the intelligence was gathered.
The spokesman for Afghanistan's Interior Ministry, Najib Danish, said the number of casualties was not clear. But another Interior Ministry official, Nasrat Rahimi, said several people had been killed, according to the Associated Press.
The attackers managed to slip through security cordons and entered the hotel through the kitchen, Danish said. They appeared to include suicide bombers, he added.
One witness, quoted by the Reuters News Agency, said the assailants took some hotel staff and guests as hostages. Wahid Majrooh, ministry of public health spokesman, said police and army ambulances were used to transport the injured.
In 2011, Taliban suicide bombers and gunmen attacked the Inter-Continental in a siege that lasted more than five hours. At least 11 people were killed, including hotel staff and visitors.
The hotel has not been affiliated with the InterContinental Hotels Group for decades but continues to use a variation of the name.
(Except for the headline, this story has not been edited by NDTV staff and is published from a syndicated feed.)