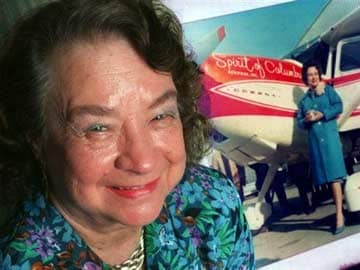 Cleveland:
Geraldine "Jerrie" Mock, the first woman to fly solo around the world, has died at the age of 88, a family friend said on Wednesday.
Mock, a Newark, Ohio, native known as "the flying housewife," died in her Florida home on Tuesday, said the friend, Mary Kelley.
Mock was 38 on March 19, 1964, when she took off from Columbus, Ohio, in a 1953 Cessna 180 single-engine monoplane named the "Spirit of Columbus," according to the Smithsonian Institution's National Air and Space Museum Archives.
Twenty-nine days and 23,103 miles (37,180 km) later, the five-foot (1.5-metre), 100-pound (45-kg) mother of three landed safely back in Columbus, 27 years after Amelia Earhart's much more famous - albeit unsuccessful - attempt to circle the globe.
US President Lyndon B. Johnson presented Mock with the Federal Aviation Administration's Exceptional Service decoration in 1964.
Despite the number of records Mock broke, few people knew of the flight or its historical significance, said Kelley, the wife of Bill Kelley, who funded a statue of Mock in downtown Newark, about 30 miles (45 km) northeast of Columbus.
"She was a quiet, reserved woman and never wanted the publicity," Kelley said. "When he was raising money for her statue, Bill would have to explain to everyone who she was."
Mock was one of the first female aeronautical engineering students at Ohio State University and began flying in 1958 at the age of 32.
Mock wrote "Three-Eight Charlie" in 1970 about her solo world flight. The book was republished this year in celebration of the flight's 50th anniversary.
A statue of Mock was erected at the Port Columbus International Airport in April. Her plane, the "Spirit of Columbus," was put on display at the National Air and Space Museum in 1976.
© Thomson Reuters 2014