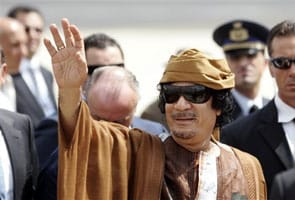 London:
Britain has frozen assets, worth about 20 billion pounds, that Libyan leader Muammar Gaddafi and his family held in the country. "I have taken action today to freeze the assets of Gaddafi and his family so that they cannot be used against the interests of the Libyan people," Britain's Chancellor of Exchequer George Osborne said.
"This follows the UN Security Council Resolution tabled by the UK and France," Osborne said in a statement. "I decided to implement this UN resolution in the UK as quickly as possible, before the financial markets reopened.
This is a strong message for the Libyan regime that violence against its own people is not acceptable," he said. The statement also warned financial institutions that the treasury would monitor compliance "rigorously".
According to reports, Gaddafi's British assets include bank accounts, commercial property and a 10 million-pound London home.
The action follows that taken by the US, which signed yesterday an order freezing the Libyan leader's assets. The UN Security Council had unanimously ordered a travel and assets ban on Muammar Gaddafi's regime and a crimes against humanity investigation into the bloodshed blamed on the Libyan strongman.
It also called for an immediate arms embargo against Libya, where the United Nations says more than 1,000 people have been killed in attacks blamed on Gaddafi loyalists.