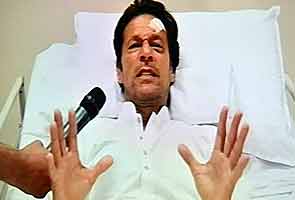 Islamabad:
From his hospital bed, cricketer-turned-politician Imran Khan today alleged that there had been "massive rigging" in the Pakistan general elections that he has just lost, but hailed what he called a "new Pakistan."
"I commend the people for fighting so bravely for their rights! This is our Naya Pakistan," the chief of the Pakistan Tehrik-e-Insaf party tweeted, also demanding that the Election Commission act immediately on complaints of people "who saw ECP staff and police indulge in massive rigging."
On video released from the Lahore hospital where he is recuperating from a fall that fractured his spine, Mr Khan said, "The greatest strength of democracy is a solid opposition, which was not there in Pakistan for the past 10 years. Till now there was friendly opposition. We will tell the people the benefit of a good opposition."
He did not acknowledge the victory of PML-N (Pakistan Muslim League-Nawaz) or congratulate its chief Nawaz Sharif who is set to Pakistan's Prime Minister for a third time. The video was Mr Khan's first reaction to trends which showed that the PML-N was set to bag more than 125 of the 272 parliamentary seats that went to the polls.
Mr Sharif has already claimed victory and said his party will form the next government.
The 60-year-old Imran Khan often claimed during the campaign that his party would sweep the election but trends show that it will end up with just over 30 seats.
Analysts pointed out that its actual total could be lower as several leaders like Khan had won in more than one seat and would be allowed to retain only one.
Mr Khan alleged that his party had been affected by rigging in Punjab and Sindh provinces. The Pakistan Tehrik-e-Insaf will produce a "white paper" on the alleged rigging so that such practices could be prevented in future, he said.
He said his party would form the government in northwestern Khyber-Pakhtunkhwa province, where it has emerged the single largest party.
He pledged to make the province an example for the rest of Pakistan by reforming the police force, education and healthcare.
The Pakistan People's Party (PPP) too alleged that the results in the Punjab province were 'manipulated'. in the counting of votes so far, the PPP is said to have bagged one seat in Punjab; in the 2008 elections it had won 50.
Mr Khan welcomed the high turnout in the election, describing it as a "democratic evolution". He said Pakistan had witnessed possibly the largest turnout in its history.