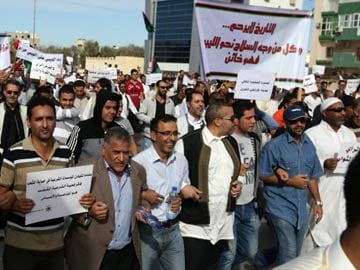 Tripoli, Libya:
Fresh clashes erupted in Tripoli today, officials and witnesses said, as the death toll from an anti-militia protest in Libya's capital rose above 40 and the government appealed for restraint.
More than 400 people were also wounded when yesterday's protest degenerated into armed clashes in the capital that continued through the night, Justice Minister Salah al-Marghani said.
He said the death toll was likely to rise further.
The new clashes broke out as vehicles loaded with fighters from Misrata, whose militia headquarters in the capital were at the centre of yesterday's fighting, headed to Tripoli from the eastern suburb of Tajura.
Prime Minister Ali Zeidan appealed for "restraint and a halt to the clashes", warning the entry of more armed groups into the volatile capital could only "further complicate the
situation."
"The coming hours and days will be decisive for the history of Libya and the success of the revolution," Zeidan stressed.
In the face of the turmoil two years after dictator Moamer Gaddafi's overthrow in a NAT0-backed rebellion, US ambassador Safira Deborah tweeted: "Heartbreaking to hear continuing gunfire. An insult to the memory of the martyrs."
A demonstration calling for the Misrata militia, made up of former rebel fighters, to leave the capital turned into a deadly confrontation between rival gunmen yesterday.
The militias are holdovers from the 2011 uprising that ousted Gaddafi and are a powerful force in the increasingly lawless North African country.
After blasts and gunfire rocked several areas throughout yesterday night, a relative calm had returned to Tripoli in the morning with only sporadic Kalashnikov fire in the Ghargour district where the violence flared.