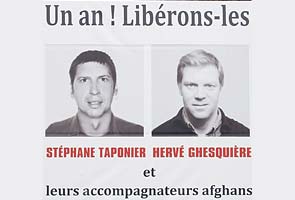 Paris:
French television has reported that two journalists held hostage in Afghanistan since December 2009 were freed Wednesday.
France-3 television said in a flash across their screen that their reporters Stephane Taponier and Herve Ghesquiere have been released, without providing further details. Their translator, Reza Din, was also released.
Prime Minister Francois Fillon said the two men were in good health and would be returning shortly to their homeland after one of France's longest hostage ordeals.
President Nicolas Sarkozy thanked "everyone who participated in freeing the hostages" and praised Afghan President Hamid Karzai for his management of the hostage situation.
The television journalists were kidnapped together with three Afghan associates while working on a story about reconstruction on a road east of Kabul. The Taliban said the insurgency movement was holding them and made a set of demands - never published - in exchange for the men's freedom.
Ghesquiere, 47, and cameraman Taponier, 46, are seasoned journalists. Ghesquiere specialized in war reporting, covering the Balkans conflict and doing investigative reports from around the globe, from Cambodia to the disputed Western Sahara territory. Taponier had filmed in the past in Afghanistan, notably in 2000 the northern commander Massoud, who was later killed.
"For the past several hours our two French hostages in Afghanistan are in the hands of French forces at the Tagab base," Fillon told legislators. "Our two hostages are in good health and will be on French soil in several hours."
France-3 immediately put up a thumbnail image on the upper left corner of the screen showing the two journalists' faces, with the word "FREE" in big white letters.
France Televisions' channels have long been closing their newscasts with photos of the French journalists and a tally of the days they have been held. Towns have put up banners with their photos, and their supporters hoisted a banner on the top of Mont Blanc in the Alps.