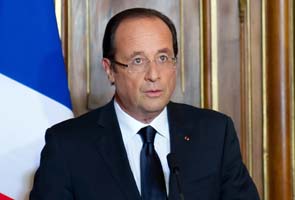 Strasbourg:
French President Francois Hollande urged Europe on Tuesday to fight drug trafficking in the Sahel region because "terrorism feeds on narcotics trafficking" in West Africa.
In his first address to the European Parliament since taking office last year, the French president said his decision to send troops into Mali to drive back Islamist insurgents was taken "within the framework of international law".
"There was no time to lose," he said, otherwise "terrorism would have conquered all of Mali.
"It was our responsibility. We could bring the help immediately that the Malian president expected of us. The decision was taken in the name of Europe, of the international community."
The European Union must now act in favor of peace and security in the region, he added, by training the Malian army and African forces to help them enforce security, while also working to re-establish democracy.
But Europe too must conclude from the current chaos that policies practiced in the region up until now had failed to prop up local economies and failed to stop the boom in trafficking.
"The battle against drug trafficking is an essential element if we want to battle terrorism, because terrorism feeds off narcotics trafficking everywhere in the world and notably in west Africa."
He also said the time was ripe for Europe "to conduct a real common foreign policy, to have a European defence."
"France is ready," he added, because it is time "to gather our forces and our means, to bring our industries closer together, to harmonize our positions in international bodies where Europe should speak with a single voice."
He said Europe needed to act "to resolve conflicts that hurt the human consciousness", stressing: "I am thinking of Syria."
Hollande said Europe also must act "to avoid nuclear proliferation," adding: "I'm thinking of Iran."
Further, it must act "to weigh on negotiations between Israel and the Palestinians. Europe must not wait for the United States but must already be there to hasten the resumption of talks," Hollande said.
Get the latest election news, live updates and election schedule for Lok Sabha Elections 2019 on ndtv.com/elections. Like us on Facebook or follow us on Twitter and Instagram for updates from each of the 543 parliamentary seats for the 2019 Indian general elections.