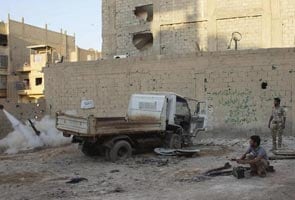 Paris:
France said on Monday that a Russian proposal to have Syrian President Bashar al-Assad hand over his chemical weapons arsenal was acceptable only if it came after a U.N. Security Council resolution spelling out consequences if he failed to comply.
Russian Foreign Minister Sergei Lavrov, seizing on a remark by his U.S. counterpart, suggested the handover as an alternative to strikes to punish the Syrian government over an August 21 chemical weapons attack.
"The proposal of the Russian foreign minister... is worthy of close scrutiny," French Foreign Minister Laurent Fabius said in a statement. "It would be acceptable under at least three conditions."
Fabius said that Assad would have to place his chemical arsenal under international control quickly and allow it to be destroyed, and that the operation should take place quickly after a Security Council resolution.
Also, those responsible for carrying out the attack would have to be brought before the International Criminal Court to face prosecution for their crimes, he added.
France has pressed forcefully for strikes to punish Assad's government over the chemical attack despite opposition from Russia, but has said it could only intervene if the United States led the way.
Fabius said that "rapid, serious and verifiable" commitments were needed from the Syrian government if France was to accept the Russian handover proposal - which the United States has so far greeted with scepticism.
© Thomson Reuters 2013