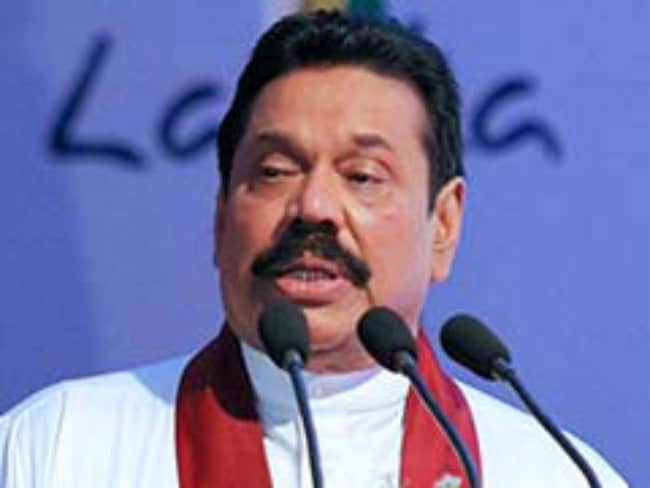 Colombo:
Sri Lanka's former president Mahinda Rajapaksa plans to return to mainstream politics as the Prime Ministerial candidate of the main opposition party, his close associate Kumar Welgama said today.
"He will be the prime ministerial candidate of either the Sri Lanka Freedom Party (SLFP) or the United People's Freedom Alliance (UPFA)," Mr Welgama said.
President Maithripala Sirisena, who is the leader of both the groups, has resisted calls to allow 69-year-old Rajapaksa to contest.
However, a six-member committee appointed to have talks with Sirisena and Rajapaksa has clinched the candidature of Mr Rajapaksa, Mr Welgama said.
Mr Sirisena, who was Mr Rajapaksa's health minister, joined the main opposition UNP just ahead of the January 8 presidential election.
Me Rajapaksa sacked Mr Sirisena from the party but handed him the leadership after the latter's victory over him.
Speaking in the central town of Kandy this morning, Mr Rajapaksa asked his supporters to "wait till Tuesday".
Since the defeat in the presidential election, the Rajapaksa family faced corruption charges.
Mr Rajapaksa's brother Basil Rajapaksa, the powerful economic development minister, spent time in remand custody since late April on misappropriation charges.
Sources said the former President was bracing to contest from an alliance outside Mr Sirisena's party if he was denied ticket to contest by the president. The former President backed his loyalists to organize rallies islandwide to pressure Mr Sirisena to bring him back.
Mr Sirisena last week dissolved the parliament, paving the way for fresh parliamentary elections on August 17, eight months ahead of schedule.