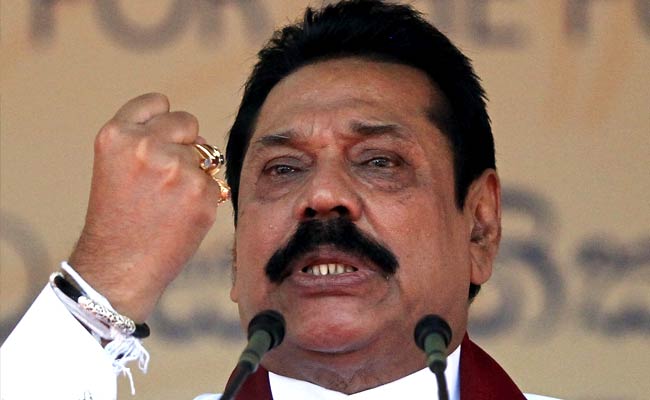 Colombo:
Former Sri Lankan president Mahinda Rajapakse today opposed international war crimes apparatus and urged all parties in the island nation not to allow the passage of new laws aimed at persecuting members of its armed forces.
In a speech delivered at a Buddhist temple in the capital Colombo, Mr Rajapakse said he opposed a resolution passed against Sri Lanka at the UN Human Rights Council (UNHRC) in Geneva, and warned that such a resolution would put the country at risk, Xinhua news agency reported.
"The government has co-sponsored the Geneva resolution without considering its implications and without informing parliament and appraising the people about it," Mr Rajapakse said.
"If a separate criminal justice apparatus is to be set up with foreign judges, prosecutors and investigators, our ordinary law as well as the constitution itself will have to be amended," he added.
He believed that if any members of the armed forces were involved in any wrong-doing, they should be tried under the local laws and in local courts.
"The present attempt being made in this country is to introduce these faulty laws and procedures to Sri Lanka and to jail our war heroes expeditiously. No self-respecting citizen should allow this to happen," he said.
However, the Sri Lankan government last week maintained that the process to fix accountability as mandated by the latest UNHRC resolution will be purely domestic and dismissed claims by the opposition that it would be a hybrid mechanism.
"I wish to stress that this would be a Sri Lankan process, not a hybrid process. It will be the Sri Lankan institutions and systems who will be implementing the process," Foreign Minister Mangala Samaraweera said.
Sri Lankan troops defeated the Tamil Tiger rebels after a 40-year civil war in May 2009.
International agencies, including the UNHRC, however, have been calling for a war crimes probe in the island nation, stating that the rebels and government troops may have committed rights violations in the final months of the war.