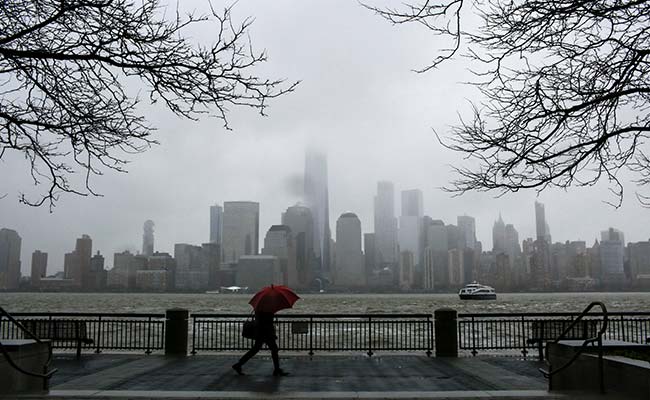 It hasn't been a week since the last nor'easter, and already another is on the way. More than 36 million people are in some kind of winter storm warning or advisory on Monday as the storm ramps up in the Mid-Atlantic. It is slated to hit the Northeast from Monday night through Tuesday evening.
This storm is just as strong as the last one, but it's targeting different regions with the heaviest snow. New England will bear the brunt of this nor'easter, with more than a foot of snow possible in Boston.
The storm is expected to strengthen rapidly on Monday night. Two systems - one from the Great Lakes and another from the Southeast - will merge east of the Mid-Atlantic. As it happens, snow will spread across the Northeast from New Jersey to southern Maine. Winds will pick up, and gusts could reach 60 mph.
The storm really gets going in New England early Tuesday morning. The day will be marked with moderate to heavy snow from Long Island to Maine. With the combination of wind and snow, blizzard conditions are possible. Visibility during the morning commute in Boston could be significantly reduced.
On Tuesday night, the worst of the snow is expected to shift fully to New England - Maine, in particular.
- - -
Philadelphia/New Jersey forecast
Because the center of the storm is farther offshore, Philadelphia and New Jersey will receive significantly less snow than in last week's nor'easter. Still, the most significant impact will come Monday night into Tuesday morning, which means the Tuesday morning commute could be affected.
Snowfall totals will increase from south to north, with southern New Jersey seeing less than 1 inch (if any) and northern New Jersey getting up to 4 inches. Philadelphia should get away with just a coating, while the New York City commute region from New Brunswick to Newark could get up to 4 or 5 inches.
- - -
New York City forecast
Last week's storm had a significant forecast with relatively insignificant results, but we know this storm is not going to be a big deal for the Big Apple. This storm will probably give New York City about as much snow as the last one.
The peak of the storm could coincide with the morning commute on Tuesday, which will tangle traffic and train schedules. By Tuesday night, snow should taper off.
- - -
Boston forecast
Southern New England looks as if it will get much more snow than last week's storm. The National Weather Service is calling for 12 to 18 inches in Boston itself, with as much as 24 inches on the Cape.
Moderate to heavy snow is likely across southern New England from Monday night through Tuesday. Snowfall rates could reach 3 inches per hour, which is significant and will cause whiteout conditions when combined with gusty winds. Wind gusts could reach 60 or 65 mph, which will lead to power outages, especially for eastern Massachusetts.
The Tuesday morning commute will be significantly affected, even "near-impossible," according to the National Weather Service.
(This story has not been edited by NDTV staff and is auto-generated from a syndicated feed.)