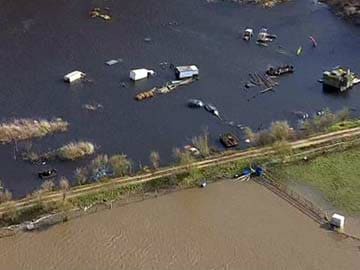 Belgrade, Serbia:
Three people have drowned in Serbia and more than 3,000 evacuated following flooding caused by torrential rain that prompted authorities to declare a state of emergency, officials said Thursday.
"A man who refused to leave his home as suggested by rescuers drowned overnight in Umcari," a southwestern suburb of the Serbian capital Belgrade, mayor Sinisa Mali said.
Another man and a woman drowned near the western town of Lajkovac, Mali told reporters.
The government has sent the army to help rescuers evacuate those who are stranded.
"This is the worst natural catastrophe that has ever hit Serbia," Serbia's Prime Minister Aleksandar Vucic said while touring the flooded areas.
More than 3,300 people have been evacuated from western and southwestern parts of Serbia, while more than 200 others were awaiting army choppers and rescuers to take them to safer areas.
Schools in Belgrade and 18 other towns will remain closed for the rest of the week.
Some 100,000 households with an estimated 300,000 inhabitants, mostly in rural western Serbia, have been left without electricity.
Serbia's sole power utility company EPS said it had halted two hydro-power plants due to high water levels on the Morava river.
Floods have also disrupted production in two mines near Belgrade, the main suppliers of major coal-fired power plants, the company said.
In order to lower the water pressure for other hydro-power plants, the EPS said it had opened flood gates at the biggest plant Djerdap on the Danube, as its levels were below the normal ones.
A rescuer went missing in the central town of Toplica, while traffic was halted on the main highway linking Serbia with its southern neighbour Montenegro.
Landslides were registered in a number of towns, with hundreds of vehicles stranded on flooded roads.
In western Serbia, snow and strong winds have cut off a number of villages.
Railway traffic with Montenegro as well as the southern town of Nis was also halted due to heavy flooding from the rivers Drina and Morava.
The government has asked the European Union and Russia for assistance, a statement said.
Severe flooding also hit neighbouring Bosnia, which saw its heaviest rains in the past 120 years.
The authorities declared a state of emergency in several parts of Bosnia, ordering the army to help out rescuers.
Hundreds of homes were cut off or flooded after the Miljacka river, which runs through Sarajevo, broke its banks on Wednesday.
Some 3,500 homes in the capital were left without power.
Authorities said emergency workers were supplying food and medicines to those trapped in their homes.
"Thousands of people are in danger, but thankfully, there are no victims," Muslim member of Bosnia's joint presidency Bakir Izetbegovic told reporters.
Two towns in western Bosnia, Maglaj and Doboj, could be reached only by boats, as all the roads and streets, were completely flooded.
Several hundred people have been evacuated from their homes, officials said.
Bosnia has also called for international assistance, Izetbegovic said.
Get Breaking news, live coverage, and Latest News from India and around the world on NDTV.com. Catch all the Live TV action on NDTV 24x7 and NDTV India. Like us on Facebook or follow us on Twitter and Instagram for latest news and live news updates.