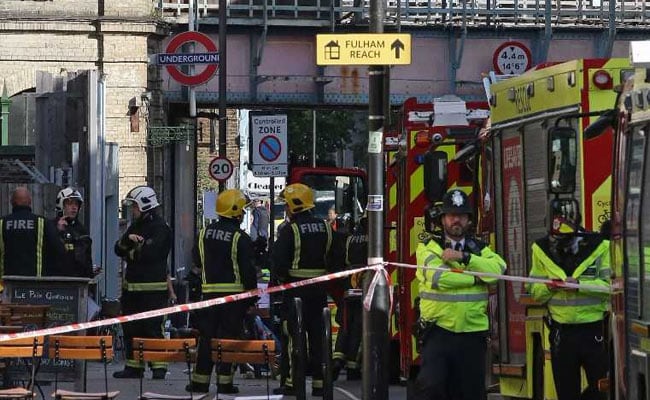 Highlights
Bomb sent cloud of smoke, flames through London subway carriage
At least 18 commuters injured, no group has claimed responsibility yet
Security measures tightened across London's mass transit network
London:
A homemade bomb
sent a scorching cloud of smoke and flames
through a London subway carriage Friday, injuring at least 18 rush-hour commuters and sending people scrambling for safety in what police are
calling a terrorist incident
.
There was no immediate claim of responsibility and authorities gave no details on possible suspects, but the incident was quickly labeled a terrorist strike and security measures were tightened across London's vast mass transit network.
British state broadcaster, the BBC, reported the device had a timer, suggesting some degree of bomb-making knowledge was used in creating the device.
The head of London Police's counterterrorism unit, Mark Rowley, confirmed the blast was from an improvised explosive device and said the 18 injured largely suffered from flash burns at the Parsons Green station, about a mile southwest of central London.
Emergency services said none of the injured faced life-threatening conditions.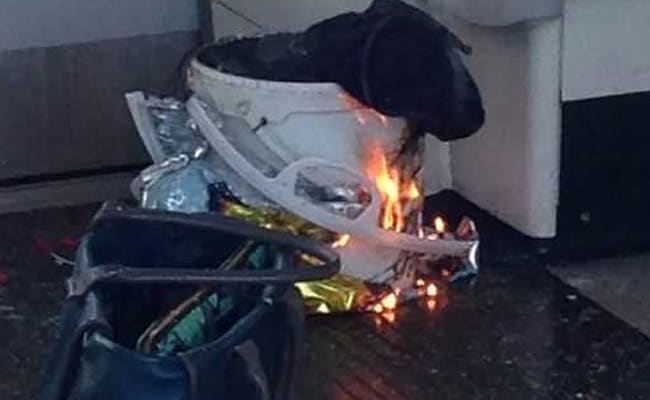 "We have hundreds of detectives involved looking at CCTV, forensic work and speaking to witnesses," he said shortly after the attack. "This investigation will be supported by our colleagues at MI5 bringing their intelligence expertise to the case."
Prime Minister Theresa May called a special meeting of the anti-terror Cobra committee for Friday afternoon and London police declared it a "terrorist incident."
"My thoughts are with those injured at Parsons Green and emergency services who are responding bravely to this terrorist incident," she said. Parsons Green is in trendy Fulham, a neighborhood of Victorian rowhouses, furniture designers and Championship League soccer.
Luke Walmsley, 33, a film editor, was on his way to work during a normal morning commute, listening to music.
And then it was suddenly not normal.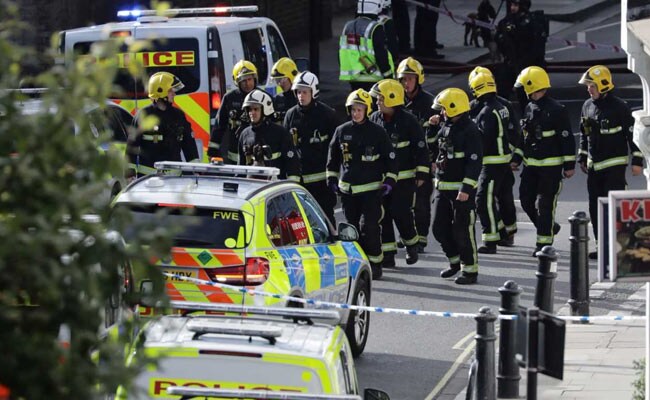 "I heard a scream and then there was a flash, a light, and smoke, I actually pulled my earplugs out and then the screams got louder and louder," he said, recalling people running toward him at the station.
"It was chaos it was every man for himself to get down the stairs and it's a very tight exit," he said, describing injured people on the ground. "I went back to see if they were okay, other people attended them, then there were nannies and moms asking where their children were."
He said that on the platform, there were people helping others "who were shocked and burned, bottles of water being poured over burns, quite severe burns, whole legs."
London Mayor Sadiq Khan condemned "the hideous individuals who attempt to use terror to harm us and destroy our way of life. As London has proven again and again, we will never be intimidated or defeated by terrorism."
A photograph on social media showed a white bucket beside a shoulder bag on fire - but little damage. The bucket was not burned.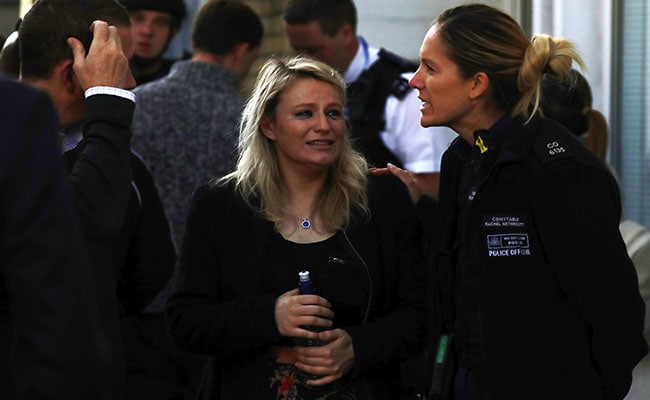 A Twitter user named @RRigs wrote, "Fireball flew down carriage and we just jumped out open door."
Three hours after the incident, President Trump tweeted: "Another attack in London by a loser terrorist. These are sick and demented people who were in the sights of Scotland Yard. Must be proactive!"
It was unclear whether Trump had been brief by his security advisers, who told him something of the identity of the assailants. Neither the Metropolitan Police nor the British government have said anything publicly behind describing the detonation as a suspected terrorist attack.
"Loser terrorists must be dealt with in a much tougher manner," Trump wrote in a follow-up tweet. "The internet is their main recruitment tool which we must cut off & use better!"
Trump also added that the "the travel ban into the United States should be far larger, tougher and more specific-but stupidly, that would not be politically correct!"
Commuters described scenes of panic to the BBC and there were reports of passengers with injuries, including facial burns.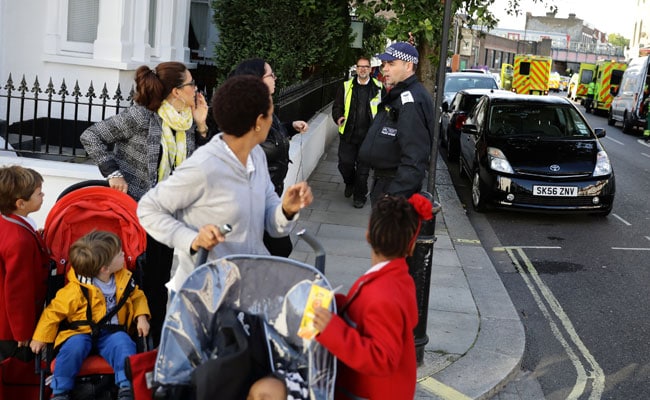 On social media several users living near the Parsons Green Underground station tweeted their support to those affected, responding in a typical British fashion with "I'll put the kettle on."
"If anyone needs a coffee, tea, a quiet moment or just a chat, please DM me - Going home now I am on Dawes Road, 2 minutes to #ParsonsGreen," Twitter user Maeva Gonzalez wrote.
The United Kingdom was been the target of a string of Islamist-related terrorist attacks in the last year.
A suicide bomber detonated his device in May at an Ariana Grande pop concert in Manchester, killing 23 people, including the assailant.
In March, a terrorist drove his vehicle into pedestrians at Westminster Bridge in London and then emerged with a knife. He killed five, including a police officer, before he was shot.
In June, three attackers used a rented van to run over people on London Bridge, before they jumped out of the vehicle and stabbed more victims in the crowded Borough Market. They killed eight people, before police shot them dead.
Police investigators concluded the attackers were radicalized and inspired by groups such as Islamic State, but that they planned the assaults on their own.
(Except for the headline, this story has not been edited by NDTV staff and is published from a syndicated feed.)