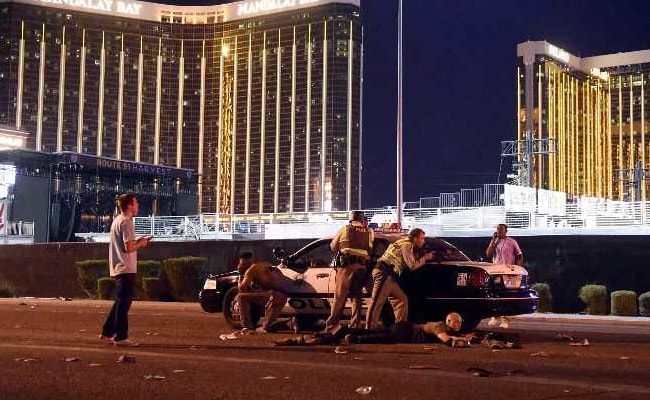 Los Angeles, United States:
The US Federal Bureau of Investigation is looking at a new person of interest in connection with the October mass shooting that killed 58 people at a Las Vegas concert, the county sheriff said Friday.
The gunman, 64-year-old Stephen Paddock, killed himself after the rampage carried out from his hotel suite on Las Vegas' famed Strip.
It was the deadliest mass shooting in recent US history.
Clark County Sheriff Joe Lombardo told a press conference that "the FBI has an ongoing case against an individual of federal interest," but he said he could not elaborate.
Lombardo added, however: "I know and believe there's only one suspect who killed 58 people and injured hundreds more. All the evidence recovered in this case supports that theory."
He said charges were unlikely to be brought against Paddock's girlfriend Marilou Danley.
Paddock, a wealthy retired accountant and compulsive video poker player who took Valium for anxiety, had "lost a significant amount of his monetary wealth in close proximity to October 1," which may have been a factor behind the attack, Lombardo said.
The sheriff was commenting on an 80-page preliminary report published about the investigation -- which included examination of more than 20,000 hours of video.
The report tracks the sequence of events that began September 17, when Paddock checked into another hotel in Las Vegas, and culminated with the October 1 shooting from the 32nd floor hotel suite.
"This report is not going to answer every question or even answer the biggest question as to why he did what he did," said Lombardo.
"There was no suicide note nor a manifesto left behind. No ideology or radicalization was discovered."
The ISIS had claimed Paddock as one of their "soldiers," but investigators said early on that they found no link to any extremist group.
Authorities scouring Paddock's computer usage found searches for firearms and elite police response teams. They also discovered "numerous photos of child pornography," Lombardo said.
Paddock's brother Bruce was arrested in October in Los Angeles on child pornography charges, as part of a probe that began before the Las Vegas shooting.
Stephen Paddock had stockpiled an arsenal of firearms in his room at the Mandalay Bay hotel before he rained fire down on a country music festival where some 22,000 people had gathered on the night of October 1.
In addition to the 58 dead, hundreds were wounded. They included 422 people who sustained wounds related to gunfire.
The total number hurt was 851, taking into account others who were injured in the melee, Lombardo said on Friday.
(Except for the headline, this story has not been edited by NDTV staff and is published from a syndicated feed.)