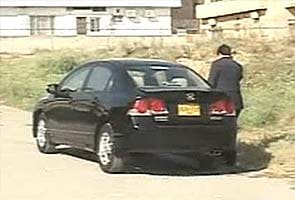 Islamabad:
It was a close call for Pakistani journalist Hamid Mir today. Explosives were found placed under the car of the senior anchor of Geo News in Islamabad, about eight kilometres from his residence.
Mr Mir had visited Islamabad's F-7 area earlier today where it is suspected the explosives had been planted.
Mr Mir's driver spotted an unknown black bag under the journalist's car; it was placed on the left side of the car's underbelly where Mr Mir usually sits.
The bomb disposal squad was called in; they removed the bag, only to find an Improvised Explosive Device (IED) packed in a tin case inside it.
They were able to successfully defuse the explosives; a number 33 detonator, ball bearings and a battery were recovered.
The explosives reportedly did not detonate due to faulty wiring. The vehicle has now been declared safe.
Meanwhile, Pakistan's Interior Minister Rehman Malik said complete security would be provided to Mr Mir and a thorough investigation will be carried out by the police.
Two journalists would be included in the fact-finding committee under the chair of the magistrate to probe the incident, Mr Malik told reporters.
Mr Malik further added that the bomb planted under Mr Mir's car was powerful enough to damage a building and if exploded it could have completely destroyed the vehicle, Geo News reported.
He announced a reward for anyone who can give information regarding the terror attempt on the senior journalist's life.
Speaking about how to improve the law and order situation in Pakistan, Mr Malik said he will be introducing a new concept of a "neighbourhood watch" soon.
(With PTI inputs)