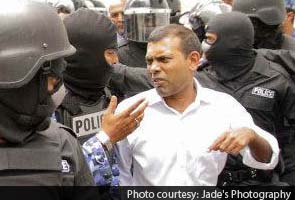 Male':
The Maldives ex-President Mohamed Nasheed walked out of court today a free man a day after he was jailed for evading arrest warrants. The court has also postponed his trial for four weeks. Mr Nasheed's lawyers requested for a delay in the trial until Presidential polls are over in September and the Prosecutor General raised no objection. But the lower Hulhumale' court refused to postpone the case till after elections and ordered only a four-week delay.
Mr Nasheed is charged with abuse of power - ordering the military to detain the Chief Judge of the Criminal Court - when he was President in January 2012. He had ignored the court arrest warrants twice - seeking diplomatic shelter in the Indian mission for 11 days.
After a senior foreign ministry delegation was flown in for a series of meetings between all 'stakeholders' - an 'agreement' was reached. While the Maldivian government vehemently denies any deal - a loose understanding for free, fair, credible and all inclusive elections was reached.
Mr Nasheed accuses the regime of a politically motivated case that would bar him from polls if he was convicted. But, the trial is now set to start only four weeks from now - and would in all likelihood prolong itself to let Mr Nasheed campaign and contest the Presidential polls on September 7.
New Delhi can breathe easy, at least for a few weeks, after accusations that it had been snubbed by the Maldivian government when Mr Nasheed was arrested on Tuesday. The Maldivian government has always insisted the law of the land was taking its own course and the Judiciary is independent from the executive. But, with international pressure, NDTV has learnt that other extra-constitutional political and legal figures could have agreed to let the former head of state contest the elections.