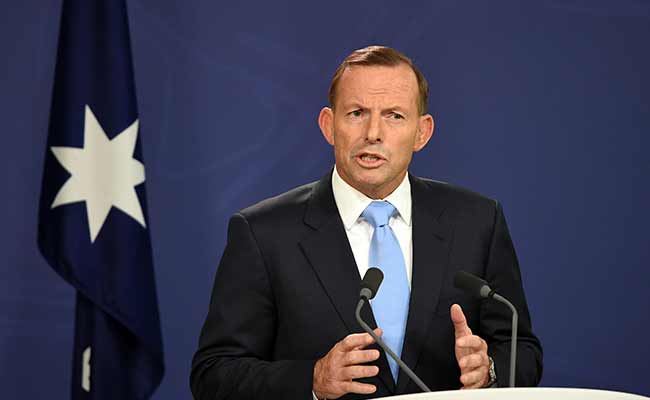 Sydney:
Deposed Australian prime minister Tony Abbott declared today "cultures are not all equal" and the West should proclaim its superiority over Islam, sparking accusations he is trying to "Trumpify" the nation's politics.
The staunch Catholic also called on Australians to stop apologising for their values.
Abbott, who was ousted by Malcolm Turnbull in a Liberal Party coup in September but remains on the backbench, urged the West to "be ready to proclaim the clear superiority of our culture to one that justifies killing people in the name of God".
"We can't remain in denial about the massive problem within Islam," he wrote in an opinion piece for the mass-market Sydney Daily Telegraph.
Labor opposition frontbencher Ed Husic slammed Abbott for his "effort to Trumpify Australian politics", after US Republican presidential frontrunner Donald Trump once again courted controversy by calling for Muslims to be barred from entering the country.
"What are these guys going on about, other than what I see as a broader effort to Trumpify Australian politics by bringing in the extreme elements of conservative discussion within the US political system to Australian shores?" Husic told Sky News.
Abbott, who briefly trained as a priest before entering politics and was once dubbed the "Mad Monk", added that Australians should stop being "apologetic about the values that have made our country as free, fair and prosperous as any on Earth".
Mutual respect
Labor opposition Leader Bill Shorten called the remarks "entirely counterproductive".
"Inflammatory language undermines efforts to build social cohesion, mutual respect and has the potential to harm the efforts of national security agencies to keep Australians safe," he said in a statement.
Australian Human Rights Commission chief Gillian Triggs also criticised Abbott's tone.
"We have to be extremely careful before we make blanket assertions about Islam as a religion, or the Muslim people in Australia," she said.
"Many of those (Muslims) I meet in my job, I know them to be really remarkably peaceable and good family people. So I think we need to work on understanding why that tiny number... has become so radicalised."
Prime Minister Turnbull told national radio Abbott was entitled to his opinion but made clear the vast majority of Muslims were appalled by violent extremism.
"The extremism of ISIL or Daesh, these terrorists, is utterly rejected by the leaders of the great majority of Muslim nations," he said, referring to the ISIS.
"The one thing we need to be very careful not to do, and I'm sure Tony agrees with this, what we must not do is play into the hands of our enemies and seek to tag all Muslims with responsibility for the crimes of a few."
Australia, a key US ally in the fight against ISIS terrorists, has foiled six attacks on its home soil by radicalised Muslims over the past year, according to authorities.
But several have been carried out, including a 17-hour siege at a central Sydney cafe in which Iranian-born self-styled cleric Man Haron Monis and two hostages were killed, with a one-year memorial service being held next week.
The attacks sparked a tightening of counter-terrorism laws, while parliament last week passed legislation to strip dual nationals of their citizenship if they are convicted of terrorism offences or found to have fought with banned groups overseas.