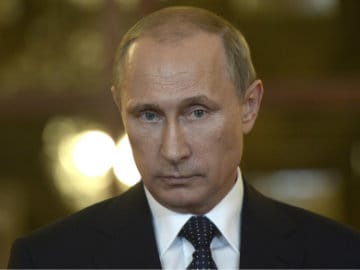 Brussels:
European Commission chief Jose Manuel Barroso warned Russian President Vladimir Putin on Wednesday not to impose new trade measures against Kiev, saying it would threaten an agreement with Russia to delay a landmark EU-Ukraine pact.
"We have strong concerns about the recent adoption of a decree by the Russian government proposing new trade barriers between Russia and Ukraine," Barroso told Putin in a letter released by the Commission.
"We consider that the application of this decree would contravene the agreed joint conclusions and the decision to delay the provisional application of the trade-related part of the Association Agreement," he added.
The letter was written in response to demands by Putin that the European Union amend the terms of the Association Agreement so as to ensure it will not damage Russian interests in a major market.
In an effort to address those concerns, the EU agreed earlier this year to hold talks with Ukraine and Russia on the implementation -- but not the terms -- of the pact.
In a surprise development, the three parties agreed September 12 to delay implementation of the accord's trade provisions until the end of 2015, a move the EU said was made to support a just-agreed ceasefire in eastern Ukraine between the government and pro-Russian rebels.
In return, Russia promised that it would not change its trade regime with Ukraine.
The three also agreed to continue consultations "on how to address concerns raised by Russia" over the impact of the accord.
In his letter, Barroso repeated that Brussels was ready "to continue engaging on how to tackle the perceived negative impacts (on) the Russian economy" from the trade accord with Ukraine.
But he insisted again, in direct opposition to Putin's demands, that the Association Agreement was a bilateral accord with Ukraine which could not be changed at the request of a third party.
The September 12 deal was "endorsed by all participants," Barroso recalled, as well as being "part and parcel of a comprehensive peace process in Ukraine" to which the EU remained committed.
Russian Prime Minister Dmitry Medvedev said two weeks ago that he had signed a decree which would hit imports from Ukraine with fresh taxes, an apparent replay of previous trade curbs.
The decree would come into effect if Ukraine were to implement the trade provisions of its EU Association Accord before the end of 2015, Medvedev said.