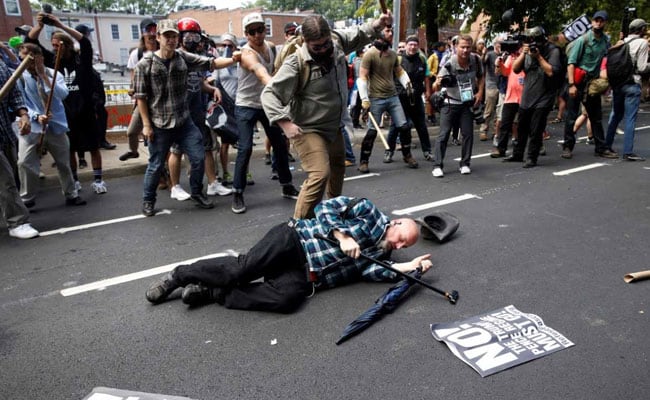 Highlights
White nationalists clashed with counter-demonstrators in Virginia
Governor declared an emergency, larger rally stopped
US President Donald Trump urges Americans to "come together as one"
CHARLOTTESVILLE, Va:
White nationalists clashed with counter-demonstrators in Charlottesville, Virginia, on Saturday, prompting the governor to declare an emergency and stop a rally to protest the planned removal of a Confederate general from a public park.
Fighting broke out in the city's downtown before noon when hundreds of people, some wearing white nationalist symbols and carrying Confederate battle flags, were confronted by a nearly equal number of counter-protesters. The clashes began the previous evening, resulting in at least one arrest.
Soon after the melee erupted, Virginia Governor Terry McAuliffe declared a state of emergency in the city, home of the University of Virginia's flagship campus. The gathering was declared an "unlawful assembly," allowing police to disperse the protesters.
Many of the combatants on both sides wore helmets and held shields, and some in the crowd brandished wooden poles. Militia members in the city openly carried rifles, although no gunfire was reported.
"You will not erase us," chanted a crowd of white nationalists, while counter-protesters carried placards that read: "Nazi go home" and "Smash white supremacy."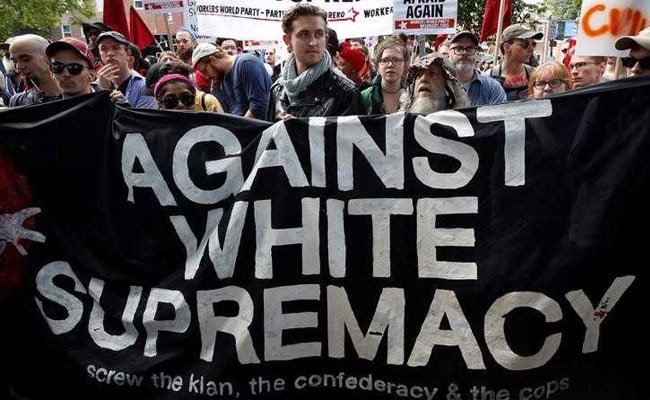 U.S. President Donald Trump, on a working vacation at his New Jersey golf club, condemned the violence and urged Americans to "come together as one."
"We ALL must be united & condemn all that hate stands for," Trump said in a message on Twitter.
After the crowd was dispersed, dozens of law enforcement officers clad in riot gear were seen patrolling the streets, with small clusters of protesters gathered in pockets in the surrounding streets.
Two people were injured in clashes on Saturday, Virginia State Police said on Twitter. Local law enforcement agencies could not be reached immediately for comment.
The clash unfolded ahead of the planned start of a "Unite the Right" rally that was expected to draw thousands of people who are angry at the planned removal of a statue of Confederate General Robert E. Lee from a public park.
Jason Kessler, a blogger who organized the rally, said in a phone interview that his group dispersed after police declared the assembly to be unlawful.
He blamed Charlottesville officials for cancelling the rally. Scheduled speakers, including white nationalist Richard Spencer, were not given police protection in the melee, he added.
"Our constitutional First Amendment rights were violated," Kessler said, declining to comment on whether his group would try to stage another rally in Charlottesville.
The incident highlights a persistent debate in the U.S. South over the display of the Confederate battle flag and other symbols of the rebel side in the Civil War, which was fought over the issue of slavery.
Supporters of removing statues such as the one of Robert E. Lee call them racially insensitive, while opponents say such moves reflect "empty political correctness" and that the Confederate symbols honor Southern heritage.
More broadly, the confrontation reflects growing political polarization that has intensified since Trump's election in November. The blunt-speaking Republican, who vowed to shake up Washington's political culture, has emboldened both sides of the divide, giving rise to more florid rhetoric and a steady wave of protests.
On Friday night, hundreds of white demonstrators holding flaming torches marched at the University of Virginia in a display that critics said was reminiscent of a Ku Klux Klan rally. Kessler, in an interview, denied the use of torches was tied to the notorious white supremacist group.
Eventually both sides threw punches and pushed each other as police moved in to break up the confrontation. At least one person was arrested on Friday, and several people were treated for minor injuries, the Daily Progress newspaper said.
"The views fueling the spectacle in Charlottesville are repugnant," House Speaker Paul Ryan, a Republican, said in a message on Twitter on Saturday. "Let it only serve to unite Americans against this kind of vile bigotry."
The National Guard is on standby, with Virginia State Police coordinating security in the city of 45,000, the governor said in a statement on Friday.
© Thomson Reuters 2017
(Except for the headline, this story has not been edited by NDTV staff and is published from a syndicated feed.)