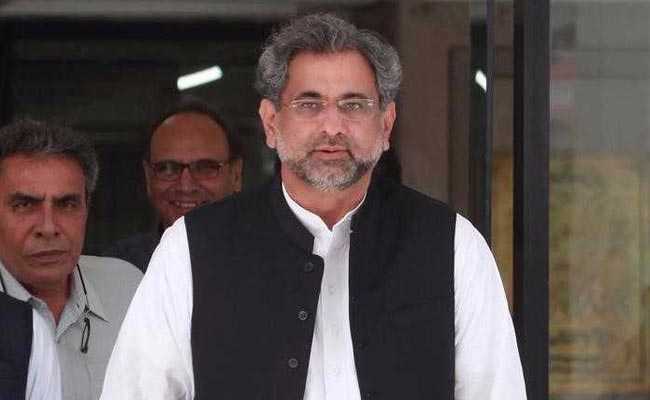 Highlights
Pak PM followed standard security protocol like any ordinary passenger
He was in US last week on a private visit, reportedly to visit his sister
Shahid Abbasi reportedly met Vice President Mike Pence during his visit
New Delhi:
Pakistan's Prime Minister Shahid Khaqan Abbasi went through a security check at New York's JFK airport during a recent US visit, say Pakistani media reports that come at a time ties between the two countries have been severely strained.
Shahid Khaqan Abbasi is seen picking up his bag and coat and walking out of security check at an airport like any ordinary passenger in footage shown on Pakistani television channels and circulated on social media. The visuals have been termed as a "major embarrassment" for the country by much of Pakistani media.
Geo News has said the
Pakistan prime minister
was in the US last week on a private visit, reportedly to visit his sister, and followed standard security protocol for all passengers. Mr Abbasi, says Geo News, is known for his simplicity.
In the same visit, he reportedly met Vice President Mike Pence. The US has told Pakistan that the country
needs to do more to tackle terrorism
from its soil.
Some media reports criticised Mr Abbasi for going through what they call a humiliating process for the head of a nation despite a diplomatic passport.
The incident comes at a time the US is considering tough measures on Pakistan, including visa bans and other sanctions on individuals in the Pakistani government.
The US has imposed sanctions on
seven Pakistani companies
over alleged links to the nuclear trade, worsening ties that have been frayed in recent years over Pakistan's suspected support for militants waging war in Afghanistan, something Pakistani officials deny.
The Trump administration is believed to be considering unprecedented political penalties on Islamabad for harboring Afghan militants waging war on the US-backed government in Afghanistan. US officials say despite a suspension of $1.3 billion in military aid in January, Pakistan has failed to take decisive action to crack down on Afghan militants on its territory.