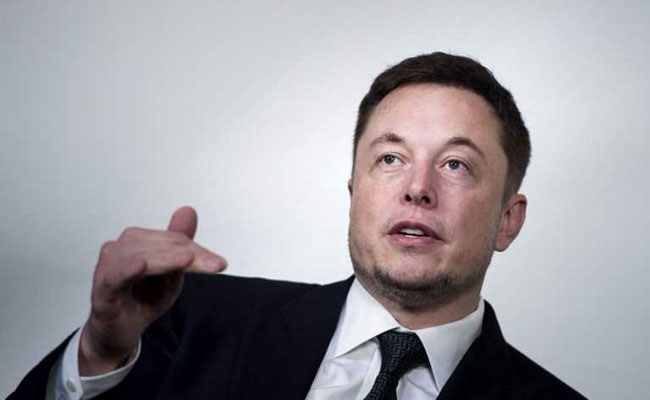 Highlights
Elon Musk sued by US regulators for lying to investors
Two new independent directors will be on Tesla's board
Musk will however, continue to be the CEO
Washington:
Tesla chief executive Elon Musk agreed on Saturday to step down as chairman of the electric car maker he founded, an unexpected resolution to a lawsuit filed by the Securities and Exchange Commission 48 hours earlier that threatened to throw Tesla into unprecedented chaos.
The SEC sued Musk on Thursday for allegedly lying to investors when he tweeted last month that he had "funding secured" to take Tesla private. It sought to ban the impulsive billionaire from serving as chief executive of any public company.
As part of the settlement, Musk will pay a $20 million fine. Tesla will separately pay another $20 million, add two new independent directors to its board, and monitor more closely Musk's public communications -- the source of many of the scandals that have roiled the ambitious but unprofitable company this year.
The conditions of the agreement "are specifically designed to address the misconduct at issue by strengthening Tesla's corporate governance and oversight in order to protect investors," Stephanie Avakian, co-director of the SEC's Enforcement Division, said in a statement.
Musk and Tesla were not required to admit to any wrongdoing as part of the settlement. Tesla declined to comment on the settlement.
Reacting to the lawsuit earlier in the week, Musk said the SEC's "unjustified action" left him "deeply saddened and disappointed." "Integrity is the most important value in my life and the facts will show I never compromised this in any way," he added.
The deal announced Saturday was all the more surprising because the SEC had offered similar terms last week after conducting an investigation that was unusually quick. Musk abruptly rejected that initial settlement earlier this week, people familiar with the matter said, prompting the SEC to file civil suit Thursday afternoon. Musk, meanwhile, hired several high-powered attorneys to prepare a defense, appearing to gear up for the fight of his career.
But Tesla's stock tumbled more than 14 percent following the SEC lawsuit, reflecting the degree of risk associated with Musk's leadership of the car maker in jeopardy. It is unclear why Musk, who rarely backs down from a fight, changed his mind.
The company's attorneys, Bradley Bondi of Cahill Gordon & Reindel, and Musk's attorney, Steven Farina of Williams & Connolly, held several late-night calls with the SEC, attempting to resolve the matter, according to a person close to the company but not authorized to speak about it publicly.
The capitulation was "likely due to pressure from investors," said Michelle Krebs, executive analyst at Autotrader. Given the potential penalties they faced if the case had gone to trial, "Musk and Tesla got lucky. ... Still, a reckless tweet cost a lot of money - the $20-million tweet."
The monetary penalty is a drop in the bucket for Musk, a multi-billionaire. Tesla views the settlement as having no long-term impact on its operations or liquidity, according to the person.
Musk stunned global financial markets on Aug. 7 when he issued tweets saying he had the "funding secured" to take his automaker private. Musk said the take-private deal was all but guaranteed, sending the Silicon Valley automaker's stock soaring by nearly 11 percent. Then, after 17 days, Musk suddenly announced that he would not pursue the deal, leading the stock to plunge amid growing skepticism over the company's long-term prospects.
But federal securities regulators say his statements were deceptive. Following its investigation, the SEC said the deal "was uncertain and subject to numerous contingencies." Prosecutors alleged that Musk had not taken even basic steps to close a deal, including discussing specific terms, including price. In his initial tweet, Musk mentioned $420 as a price, but that was "because he had recently learned about the number's significance in marijuana culture and thought his girlfriend 'would find it funny, which admittedly is not a great reason to pick a price,' " according to the SEC complaint.
In discussions with the SEC, Tesla argued that Musk's statements were true and that, either way, Tesla was not liable for them, the person close to the company said. In contrast to the fraud charge the SEC levied against Musk, the SEC settlement with the company determined Tesla did not have proper disclosure requirements in place to govern Musk's tweets.
The settlement reflects an important principle, said SEC Chair Jay Clayton. "When companies and corporate insiders make statements, they must act responsibly," he said, including ensuring "the statements are not false or misleading."
The $40 million will be distributed to "harmed investors," according to the SEC.
The settlement is a big victory for the SEC, which faced one of its most high-profile fights in years if the case had gone to trial. It filed suit just 51 days after Musk's Aug. 7 tweet, suggesting prosecutors were confident in their case. But there were risks. Even if the jury found the evidence of fraud convincing, legal experts said, they could have been easily charmed by Musk.
A trial would have been risky for both sides, legal experts have said. "In the end, neither Musk nor the SEC wanted to play chicken," said Jordan Thomas, a partner at Labaton Sucharow and a former Justice Department trial lawyer.
"I think that the settlement is a very fair and actually generous offer by the SEC. Given the complaint he was facing, I think it was wise to take this offer," said Teresa Goody, a former SEC official who now advises companies on securities law and corporate governance.
Under the settlement, which is subject to court approval, Musk will resign as chairman of the automaker within 45 days and be barred from that position for three years. He will be allowed to remain on the board.
A change at the helm of Tesla's board could be good for the company, said Rebecca Lindland, executive analyst at Kelley Blue Book. "A new chairman will also provide much needed guidance [while allowing] Elon to continue with his vision of changing the face of mobility," she said.
Stepping down as chairman is potentially humbling for Musk, 47, who is currently Tesla's chairman, chief executive and largest shareholder, with a roughly 20 percent stake in the company. He oversees virtually all of the company's development, engineering and design.
He also commands a vast audience on Twitter, where he has more than 22 million followers, which Tesla agreed to monitor more closely under the settlement. Musk must now have the company sign off on any written statements, including on Twitter, that could be deemed material.
This is not the only time Musk's tweets have stirred trouble. Earlier this month, a Thai-cave rescue volunteer sued Musk for defamation after the executive posted unsubstantiated tweets claiming that the volunteer was a "pedo" and "child rapist."
The settlement ends one potential nightmare for the company. Some investors worried about how the electric car company would fare without Musk's vision and tenacity. But others stumbling blocks remain. Tesla faces several shareholder lawsuits tied to the Aug. 7 tweet and the Justice Department is also investigating the issue.
Tesla also remains under financial pressure. It has endured months of production problems and an exodus of top executives as it faces down more than $10 billion in lingering debts.
(Except for the headline, this story has not been edited by NDTV staff and is published from a syndicated feed.)