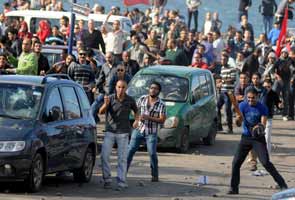 Cairo:
Egypt's Vice President proposed ideas on Wednesday to defuse unrest over a draft constitution that has polarised the most populous Arab nation, with Islamists fighting opposition protesters near the presidential palace.
Vice President Mahmoud Mekky said amendments to disputed articles could be agreed with the opposition. A written agreement could then be submitted to the next parliament, to be elected after a referendum on the constitution on December 15.
"There must be consensus," he told a news conference, saying opposition demands must be respected to overcome the crisis.
Egyptian opposition leader Amr Moussa said President Mohamed Morsi should make a formal offer for dialogue, rather than what Mekky had presented as personal ideas to resolve the row.
A senior Muslim Brotherhood official said Mekky's proposals needed to be crystallised.
"We are ready when there is something formal, something expressed in definite terms, we will not ignore it, especially if there is something useful," Moussa told Reuters during talks with other opposition figures.
The website of Al-Ahram said opposition leaders were discussing Mekky's proposals.
They have previously urged Morsi to retract a decree widening his powers, defer the plebiscite and agree to revise the constitution, but have not echoed calls from street protesters for his overthrow and the "downfall of the regime".
Morsi had returned to work at his compound a day after it came under siege from protesters furious at his assumption of extraordinary powers via an edict on November 22.
Morsi, narrowly elected by popular vote in June, said he acted to stop courts still full of judges appointed by ousted strongman Hosni Mubarak from derailing a constitution meant to complete a political transition in Egypt, long a strategic ally of Washington and signatory to a 1979 peace deal with Israel.
Rival groups threw stones at each other outside the presidential palace in northern Cairo on Wednesday. Islamist supporters of Morsi tore down tents erected by leftist foes, who had begun a sit-in there.
"They hit us and destroyed our tents. Are you happy, Morsi? Aren't we Egyptians too?" asked protester Haitham Ahmed.
Dozens of opposition supporters streamed away from the palace as hundreds of Islamists arrived, shouting, "God is greatest. The people support the president's decision."
Mohamed Mohy, a pro-Morsi demonstrator who was filming the scene, said: "We are here to support our president and his decisions and save our country from traitors and agents."
Facing the gravest crisis of his six-month-old tenure, Morsi has shown no sign of buckling, confident that Islamists can win the referendum and a parliamentary election to follow.
Many Egyptians yearn for an end to political upheaval that has scared off investors and tourists, damaging the economy.
Mekky said street mobilisation by both sides posed a "real danger" to Egypt. "If we do not put a stop to this phenomenon right away ..., where are we headed? We must calm down."
DIALOGUE
U.S. Secretary of State Hillary Clinton weighed into Egypt's political debate, saying dialogue was urgently needed on the new constitution, which should "respect the rights of all citizens".
Clinton and Morsi worked together last month to broker a truce between Israel and Hamas Islamists in the Gaza Strip.
"It needs to be a two-way dialogue among Egyptians themselves about the constitutional process and the substance of the constitution," Clinton told a news conference in Brussels.
Washington is worried about rising Islamist power in Egypt, a staunch security partner under Mubarak, who preserved Cairo's peace treaty with Israel, a pact still bolstered by billions of dollars of U.S. military and economic assistance.
The Muslim Brotherhood, to which Morsi belonged before he was elected, had summoned supporters to an open-ended demonstration at the presidential palace on Wednesday to respond to "oppressive abuses" by opposition parties.
Brotherhood spokesman Mahmoud Ghozlan was quoted on its Facebook page as saying opposition groups "imagined they could shake legitimacy or impose their views by force".
Essam el-Erian, deputy head of the Brotherhood's political party, said: "The president will not retreat, and if the state apparatus is weakened by the wounds of the previous period, then the people can impose their will and protect legitimacy."
Leftist opposition leader Hamdeen Sabahy promptly urged his supporters to go to the streets as well, heightening the chances of confrontation between Islamists and their opponents.
Responding to the scuffles at the palace, opposition leader Mohamed ElBaradei urged Morsi via Twitter to protect protesters there if he wants to keep "what remains of his legitimacy".
About 10,000 protesters had encircled the palace on Tuesday for what organisers dubbed a "last warning" to Morsi. "The people want the downfall of the regime," they chanted, roaring the signature slogan of last year's uprising against Mubarak.
Officials said 35 protesters and 40 police were wounded.
"LEAVE"
The "last warning" may turn out to be one of the last gasps for a disparate opposition that has little chance of scuttling next week's vote on a constitution drawn up over six months and swiftly approved by an Islamist-dominated assembly.
Protesters have scrawled "leave" over Morsi's palace walls, but the president has made clear he is not going anywhere.
Ahmed Kamel, spokesman for the Congress Party led by former Arab League chief Amr Moussa, said Morsi should meet opposition demands, not call for an Islamist counter-demonstration.
Opposition leaders have urged Morsi to scrap his decree, defer the referendum and agree to revise the constitution, but have not echoed protesters' calls for his overthrow.
"The demands of the street are moving faster than those of the politicians," said Elijah Zarwan, a fellow with the European Council on Foreign Relations.
State institutions, with the partial exception of the judiciary, have mostly fallen in behind Morsi.
The army, the muscle behind all previous Egyptian presidents in the republic's six-decade history, has gone back to barracks, having apparently lost its appetite to intervene in politics.
In a bold move, Morsi sacked Mohamed Hussein Tantawi, the Mubarak-era army commander and defence minister, in August and removed the sweeping powers that the military council, which took over after Mubarak fell, had grabbed two months earlier.
The liberals, leftists, Christians, ex-Mubarak followers and others opposed to Morsi have yet to generate a mass movement or a grassroots political base to challenge the Brotherhood.
Investors have seized on hopes that Egypt's turbulent transition, which has buffeted the economy for two years, may soon head for calmer waters, sending stocks 1.6 percent higher after a 3.5 percent rally on Tuesday.
Egypt has turned to the IMF for a $4.8 billion loan to help it out of a crisis that has depleted its foreign currency reserves. The government said on Wednesday the process was on track and its request would go to the IMF board as expected.
The board is due to review the facility on December 19.
© Thomson Reuters 2012