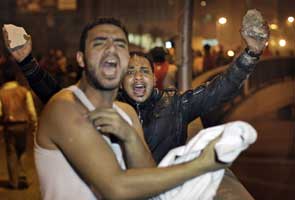 Cairo:
Egyptian security officials said one protester and one policeman were killed on Wednesday in an anti-government protest in central Cairo, bringing to six the number of people killed in two days of demonstrations against President Hosni Mubarak's regime.
(Read: US to Egypt: Listen to people's 'legitimate needs')
The policeman and the protester were killed by rocks thrown by both sides in a clash in an impoverished neighbourhood in the centre of the capital.
The officials spoke on condition of anonymity because they were not authorised to release information to journalists.
Meanwhile the head of Egypt's journalists' association, said eight journalists have been detained in the protests.
Among these are an AP Television News cameraman and his assistant, who were arrested early on Wednesday while they were filming clashes between security forces and protesters in Cairo.
Separately, an AP photographer was beaten by a policeman and injured while shooting demonstrations.
Tens of thousands of Egyptians, inspired by the popular uprising in Tunisia, turned out Tuesday in several cities in an outburst of political discontent with Mubarak's rule, widespread poverty and unemployment.
In Cairo, the protest culminated around 1 a.m. Wednesday (2300 GMT Tuesday), when a large police force fired tear gas and beat protesters to clear the central Tahrir Square, where the AP cameramen were filming.
The force moved in arresting people, chasing others into side-streets and filling the square with clouds of tear gas.
Clashes continued through Wednesday in defiance of an official ban on any protests.
Beefed up police forces on the streets quickly moved in and used tear gas and beatings to disperse any demonstrations.
In the southern city of Assiut, eyewitnesses said that riot police set upon some 100 activists staging an anti-government protest on Wednesday, beating them with batons and arresting nearly half of them.
Security officials said a total of 860 protesters have been rounded up nationwide since Tuesday.
After nightfall, more than 2,000 demonstrators were marching on a major downtown boulevard along the Nile when dozens of riot police with helmets and shields charged the crowd. It was a scene repeated throughout the day wherever demonstrators tried to gather.
They demanded Mubarak's ouster and a solution to grinding poverty, rising prices and high unemployment.
They were the latest in outbursts of political discontent in Egypt that have been growing more frequent and more intense over the past year.
Protests have erupted sporadically over police brutality, poverty and food prices, government corruption and mismanagement, and more recently sectarian strife between Christians and Muslims.
Nearly half of all Egyptians live under or just above the poverty line, set by the World Bank at two US dollars a day.
Parliamentary elections in November were widely decried as fraudulent.
Many in Egypt see these events as signs of the authoritarian president's vulnerability in an election year.
There is speculation that 82-year-old Mubarak, who has been in power for nearly 30 years and recently experienced serious health problems, may be setting his son Gamal up for hereditary succession.
But there is considerable public opposition and, according to leaked United States diplomatic memos, it does not meet with the approval of the powerful military.
And the regime's tight hold on power has made it virtually impossible for any serious alternative to Mubarak to emerge.
There were signs that the crackdown on protesters was taking a toll on Egypt's international standing.
In Washington, White House Spokesman Robert Gibbs would not say whether Mubarak, the target of demonstrators' anger and a close US ally, still has the Obama administration's support.
Secretary of State Hillary Clinton said the government should allow peaceful protests instead of cracking down.