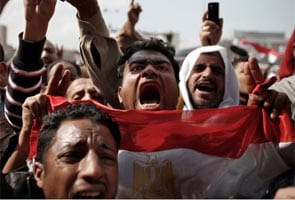 Cairo:
Protesters and police fought pitched battles on Sunday at security headquarters in Cairo as deadly clashes raged into a fourth day and the interior minister leapt to the defence of his reviled forces.
The fighting was sparked by the perceived failure of Egypt's military rulers and police to prevent football-linked violence following a match in the northern city of Port Said on Wednesday that left 74 people dead.
Clashes have been fuelled by police action, including the use of tear gas and birdshot, against protesters, with the health ministry reporting at least 12 people killed in Cairo and Suez in the backlash since Thursday.
Hundreds of riot police on Sunday blocked roads leading to the interior ministry headquarters in the centre of the capital, facing down youths throwing rocks and petrol bombs.
Police erected a concrete block wall on Mansur Street, which has become the nerve centre of the skirmishes, while entrenching themselves behind coils of barbed wire on other roads.
"There is an insistence (by protesters) on storming the interior ministry and implementing a plot," said Interior Minister Mohammed Ibrahim, whose predecessor was sacked in a cabinet shuffle in November following similar clashes.
"Because of their insistence, we have been placed in the position of defending the ministry," he said.
Ibrahim said police did not want to harm any "revolutionaries" among the protesters, but were prepared to confront others "who want to ruin the country."
Earlier, the police had moved on protester positions in the rock-strewn streets, firing birdshot and arresting medics at a field hospital, one doctor, Mustafa Nabil, told AFP. The medics were later released, he said.
The protesters denied they intended to storm the ministry, several hundred metres from Tahrir Square, the epicentre of the uprising that overthrew president Hosni Mubarak a year ago but left the military in charge.
"My heart burned at what happened in Port Said, and we all know that the police are responsible," said one protester, a high school student who gave his name as Ahmed Farag.
"We don't want to storm the ministry. We are protesting here because this is the police headquarters."
The latest clashes come amid a spike in tensions between activists and the ruling military, which blames the unrest on a foreign plot.
Judicial sources told AFP that 44 people including Americans and other foreigners working for non-governmental organisations have been referred to Cairo's criminal court over alleged illegal funding of their groups.
The 44 including Egyptians and 19 Americans are accused of "setting up branches of international organisations in Egypt without a licence from the Egyptian government" and of "receiving illegal foreign funding."
The ruling military enjoys close ties with Washington and receives more than one billion dollars in US aid annually, but it has blamed foreigners for directing activists against it.
On Friday, marchers nationwide demanded the generals cede power immediately, amid charges the military was deliberately sowing chaos to justify its status atop the political ladder.
Many of the dead in Port Said were thought to have been Ahly Ultras -- supporters of Cairo's main football club Al-Ahly -- set upon by partisans of the local Al-Masry side.
The Ultras played a prominent role in last year's uprising, and commentators have fed speculation pro-Mubarak forces were behind the massacre, or at least complicit in it.
Ibrahim denied Mubarak's former interior minister Habib al-Adly, on trial with the ousted president for the killings of protesters during the revolt, still had influence.
"Adly is in jail now and has no followers in the ministry," he said.
The military, headed by Mubarak's defence minister of two decades Field Marshal Hussein Tantawi, has pledged to hand over full powers to civilian rule when a president is elected by the end of June.
Its opponents believe it intends to hold on to power behind the scenes afterwards.
Its increasingly unpopular rule has been challenged by several bloody protests, in which dozens of people were killed between October and December, amid an increase in lawlessness and an economic downturn.
Also on Sunday, saboteurs blew up a pipeline in the Sinai Peninsula that supplies Israel with gas, the 12th such attack in a year. Security officials said gunmen planted explosives under the pipeline close to the northern town of El-Arish.
The attack came the day after an Islamist leader from the area, Mohammed Eid al-Taihi, died in a Cairo prison.
Interior ministry officials said he died from a "drop in blood circulation" and forensic doctors detected no signs of torture.
Taihi was suspected of leading a militant Islamist group responsible for previous pipeline explosions and attacks on police stations in Sinai.
Get Breaking news, live coverage, and Latest News from India and around the world on NDTV.com. Catch all the Live TV action on NDTV 24x7 and NDTV India. Like us on Facebook or follow us on Twitter and Instagram for latest news and live news updates.