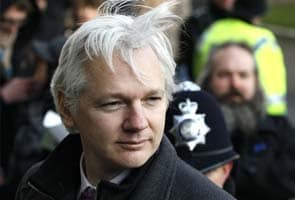 Quito:
Ecuador's President Rafael Correa vowed his government would not yield to pressure from Britain, Sweden or the United States in deciding whether to grant asylum to WikiLeaks founder Julian Assange.
"We will consult with everyone we need to, but we will make a sovereign decision on whether or not to grant asylum to the Australian, Julian Assange," he said in an interview with local television station RTS.
Since last month, Mr Assange has been holed up in Quito's embassy in London, seeking political asylum to avoid being extradited to Sweden on rape charges.
Mr Correa said he had "great respect" for London, Stockholm and Washington, but that Ecuador would not allow those governments to dictate its decision on whether or not to grant Assange political asylum.
He said the mere possibility that Mr Assange could face capital punishment in the United States could be reason enough for his government to grant his asylum petition, if there was a chance he could end up there.
"If Mr Assange's life is at risk, that is sufficient cause to approve his asylum," the leftist leader said, noting that "the death penalty exists in the United States for political crimes."
Quito has said it is reviewing the allegations of sexual misconduct against Mr Assange as it weighs the request. Mr Assange maintains he had consensual sexual relations with the alleged Swedish victims.
As he weighs his decision, Mr Correa said his government would "examine what the charges are in Sweden, how the judicial process is carried out, and if it is compatible with the humanist vision of justice that we have in Ecuador."
The WikiLeaks website and Mr Assange enraged the United States by publishing a flood of secret information about the wars in Iraq and Afghanistan.
The site's founder fears that if he is sent to Sweden he could subsequently be re-extradited to the United States to stand trial for espionage, on account of the 250,000 leaked US diplomatic cables that were published.
Mr Correa has often been at odds with Washington and offered Mr Assange asylum in 2010.