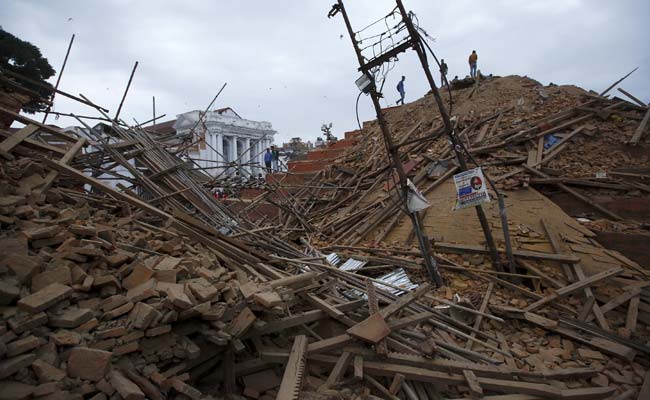 New Delhi:
There is probably no other place in the world right now where information - from the fate of your family members to where to get food and water - is more desperately needed than in the Nepal, devastated by a powerful earthquake six days ago.
The 7.9 magnitude quake brought down thousands of buildings in the densely-populated Kathmandu Valley, which includes the capital, severely damaged telecommunications, tore apart roads and snapped bridges.
As the death toll passes over 7,200, many of the estimated eight million people affected are living out in the open - unable find out if their families in rural areas are alive or dead.
Those in the remote mud-and-brick Himalayan villages remain stranded, possibly injured, amidst the ruins of their homes - awaiting rescue and relief.
Survival in a crisis is often based on the person's ability to connect and share information - to call for help and find comfort from others facing the same challenges, say experts in disaster communication.
As relief materials such dry food rations, blankets and tarpaulin sheets flood into Nepal, disaster specialists stress that information as a form of aid must not be overlooked.
"People affected by disasters need information just like disaster responders do - because it is what they need to make good decisions, protect themselves and their family and source the assistance they need," said Imogen Wall, an independent disaster expert specialising in communications.
INTERNET SAVES THE DAY
According to 2014 data from the Nepal Telecom Authority, 86 per cent of the country's 28 million population have a mobile phone, with almost 30 percent able to access the internet.
Thousands in urban areas with intermittent access to the internet are charging phones from generators, and taken to social media sites to reassure loved ones they are safe.
"That scary earthquake shaked our nepal for a 2 minutes!!! And I am safe here but many people more than 100 are injured," tweeted @sunilkc9999 from the district of Pokhara after the earthquake struck close to noon on Saturday.
Many have also been using tools like Google's Person Finder and Facebook's Safety Check to trace missing friends and family.
Others have been using the web to call for aid.
"INFANT SUPPLIES NEEDED. Nepal Children's Organization requires lactogen, diapers, sanitation pads, food, water, and children's clothes," tweeted Chiranjibi Bhandari, a charity worker, from Kathmandu.
And now as rescue teams, aid workers and journalists venture out of the capital to areas closer to the epicentre, they are sharing powerful images and stories of communities on the brink.
Freelance photographer Prashanth Vishwanathan with ActionAid UK posted a picture on Facebook on Thursday of an elderly woman sitting amongst the debris of a cowshed, caressing the head of her dying cow as it lay buried under a mound of mud and straw.
"She (the cow) used to give my household 7 litres of milk. She was our sustenance," the picture caption quotes 72-year-old Sundaya Tamang of Phalame village in Khabre district as saying.
Network providers across the world are coming together to ease communications after the impoverished country's worst earthquake in more than 80 years, offering free or discounted rates on calls to Nepal.
Telecoms firms in India such as Airtel, Aircel and Vodafone, have slashed call charges to Nepal. While in the United States, network providers such as T-Mobile and Verizon have offered free calls and texts to Nepal. Skype and Viber are also allowing users make free calls in and out of the country.
"We want to help provide people with alternative methods of communication to reach friends and family in the region during this difficult time," said a statement from Skype.
"NEWS YOU CAN USE"
But for others without phones or internet access more traditional forms of communication such as radio are a lifeline, providing them with information on how to protect themselves and where to go for assistance.
Without such information, say experts, people often panic and false rumours can take hold, exacerbating the emergency.
BBC Media Action, for example, has been broadcasting disaster-related information through its Nepali Service and more than 260 local radio station partners.
Jackie Dalton, a senior producer and trainer at BBC Media Action said the media is key for reaching out to survivors, but journalists are often too busy reporting on the problems such as the death toll and devastation, rather than the solutions.
"People are hungry for information and need to be able to have information which can help them. We started training journalists in Nepal three years ago ... as a quake of this magnitude had been predicted," said Dalton.
"When the earthquake happened, within four hours the BBC Nepali Service was sending out information, and many of the national Nepali radio stations were doing the same."
The messages broadcast include what to do to stay safe during aftershocks and information on how to avoid sickness and disease by washing hands and filtering and boiling water.
They also give out first aid information, hotlines numbers to trace the missing and advice such as encouraging people to use text, rather than call to avoid congestion on the networks.
The media can also help to dispel rumours and misinformation common after a calamity.
In the hours after Saturday's earthquake, for example, there were rumours that even bigger quake of magnitude 9 was going to strike at a certain time, creating widespread panic.
Radio stations quickly broadcast the information was false and that it was impossible to predict the timing of a quake.
Organisations such as InterNews are also deploying on the ground to coordinate information flows between communities, aid agencies and the media. Their staff act as intermediaries during disasters where they publish a daily "news you can use" bulletin in local languages for media to disseminate.
Groups such as the Communicating with Disaster-Affected Communities Network post practical information on everything from how to dispose of bodies safely to spotting the symptoms of cholera and the dangers of children playing in rubble.
But challenges remain, say disaster specialists, such as generating funds for this often invisible form of aid - not as tangible as food or tents and not as attractive to donors.
Another challenge, they say, is ensuring the communication a two-way process, where survivors are able to share their needs to ensure they can recover as quickly as possible.
"Messaging alone is not enough - it is essential that aid agencies listen to affected people in order to provide relevant content," said Wall.
© Thomson Reuters 2015