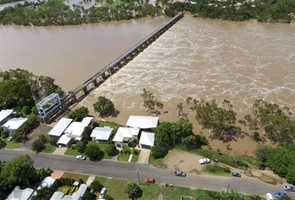 Brisbane:
Floodwaters from a swollen river poured into businesses in yet another northeastern Australian community Monday, as relentless rains brought more misery to a region battling its worst flooding in decades.
Residents of the town of Dalby, west of Brisbane, were evacuated Monday as rising waters threatened to inundate homes that had just begun drying out after another round of flooding two weeks ago.
Muddy waters also flowed through the main street in the city of Gympie, the latest of about 40 communities in Queensland state to be drenched by overflowing rivers in recent weeks. Gympie residents were frantically sandbagging buildings, but about a dozen businesses were inundated by Monday morning and dozens more were at risk as the Mary River burst its banks and kept rising.
The latest flooding was not as bad as in recent weeks, when entire towns were submerged beneath an inland sea the size of France and Germany combined. But it was a sign the ground has little capacity left to soak up any more moisture, so any new rain is likely to make matters worse, officials said.
Ten people have died since late November and about 200,000 have been affected by the floods. Roads and rail lines have been cut, Queensland's big-exporting coal mine industry has virtually shut down, and cattle ranching and farming across a large part of the state are at a standstill.
Queensland officials have said the price of rebuilding homes, businesses and infrastructure, coupled with economic losses, could be as high as $5 billion.
Some areas of Queensland have had more than 13 inches (343 millimeters) of rain in the past 24 hours, the Bureau of Meteorology said Monday.
Up to 80 businesses and homes were at risk of being inundated in Gympie, a city of about 16,000, said Acting Regional Mayor Tony Perrett.
Police were planning to knock on doors in high-risk areas, warning residents they may need to flee, Perrett said.
"If it looks like (it's) getting to be a life-threatening situation somewhere, we'll certainly get people out," he told Australian Broadcasting Corp.
The water was already 5 feet (1.5 meters) deep at Gympie's Royal Hotel on Monday morning.
"You want to cry," the hotel's assistant manager Jess Philpot said. "It's going to go up to the roof."
Dalby Mayor Ray Brown said the town has been cut in half by the swollen Myall Creek, which also overflowed on Dec. 27, leaving 100 homes awash in murky water. The town has also experienced a slew of smaller flood events in the past month.
Brown said emotions were running high as fed-up residents prepared for the latest onslaught of water.
"You've got to remember we've had five significant water events through Dalby in the last 20 days or so," he said.
Heavy rains were also leaving low-lying communities along the Brisbane River, which flows through the Queensland capital Brisbane, vulnerable to flash flooding, the Bureau of Meteorology warned. Officials have offered residents sandbags, and suggested they have emergency kits ready.
"This is a very uncertain time for Queensland residents and even if you don't experience flooding today, it pays to be prepared for the coming days, weeks and months," Emergency Management Queensland acting assistant director general Warren Bridson said.
Residents of some of the affected communities have returned home and begun mopping up sludge left behind by the floods, while others -- including in the city of Rockhampton, home to 75,000 people -- are still waiting for floodwaters to recede to start the cleanup.
Water levels remained stubbornly high in Rockhampton on Monday, and the mayor warned weary residents evacuated two weeks ago that they face another week of waiting before it will be safe for them to return home. Muddy water is still sloshing through 400 houses and 150 businesses in the city.
Officials were putting together cleanup kits for residents, complete with brushes and cleaning agents. But the process of clearing out the damage was expected to take a long time, and conditions were far from optimal. Mosquitoes, black flies and other pests breeding in the stagnant, mucky water were only going to increase, Carter said, with rotting vegetation leaving a putrid smell throughout the city.
"The stench will be quite uncomfortable for some time in this town," he said.
Australia's worst flooding in some 50 years was caused by tropical rains that fell for days, starting just before Christmas. About 1,200 homes were inundated and almost 11,000 more have water damage. Nearly 4,000 people were evacuated, and many are still staying with friends or in relief shelters.