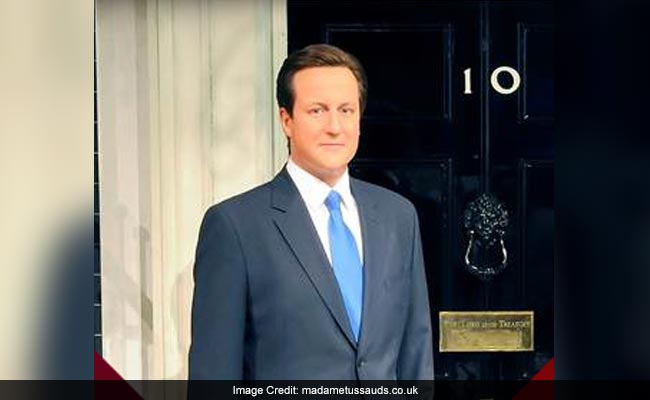 London:
Former British Prime Minister David Cameron's 150,000 pounds wax work at Madame Tussauds here has been moved into the archives leaving the space of the Downing Street replica empty.
As a reflection of some of the post-Brexit turmoil in the UK, the museum confirmed this week that the fake No 10 door will remain without representation as the world-famous wax museum has traditionally only featured elected prime ministers.
"As a result of Theresa May succeeding David Cameron as Prime Minister, Cameron's Madame Tussauds figure has been removed from the World Leaders area of the London attraction," said Nicole Fenner, spokesperson for Madame Tussauds.
"As to whether we'll be creating a figure of Theresa May - traditionally, we haven't featured likenesses of unelected Prime Ministers. However, it is still early days in May's administration, but if, as it appears, she remains Prime Minister for the foreseeable future, we will review this policy and potentially fill the vacancy outside No 10," she said.
May entered Downing Street last month after Cameron had stepped down as Prime Minister on June 24 - the day the result of a referendum on Britain's membership of the European Union (EU) was announced in favour of leaving the economic bloc.
Former London mayor Boris Johnson, the star campaigner for Brexit and newly-appointed foreign secretary in Mrs May's Cabinet, has survived the upheaval by keeping his spot at the wax museum at London's Baker Street.
Meanwhile, Cameron likeness, which cost around 150,000 pounds to create, will remain in the attraction's archive where the 132-year-old museum keeps all of the moulds, heads and hands of every figure ever made.
The Downing Street set is part of a wider "World Leaders" display, which most recently welcomed Narendra Modi to its collection.
"His figure has been extremely popular with guests since being launched earlier this year in April," the museum spokesperson said in reference to the Indian Prime Minister.
(This story has not been edited by NDTV staff and is auto-generated from a syndicated feed.)